Apple iOS 5 Safari Now Faster Than iE9 On Windows Phone Mango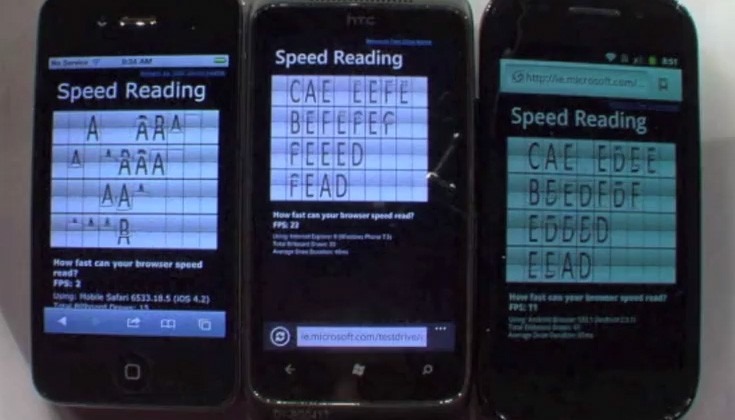 It was during the MIX 2011 developer conference back in April when Microsoft gave the first detailed look at its new Windows Phone Mango update. At the time, the company touted new enhancements in support for HTML 5 and CSS3 and did a side-by-side comparison with iOS and Android, showing that IE9 on its Windows Phone blew away the competition in speed. Well, now it looks like Apple is ahead again with the iOS 5.
During the MIX presentation, Microsoft used a speed reading test to show that Windows Phone Mango outperformed iOS and Android with a score of 26 frames per second (FPS). Apple's iOS at the time, scored a sad 2 FPS, while Android lagged behind just slightly with 23 FPS. The new iOS 5 beta, however, is clocking in at 31 FPS, which is a huge performance increase.
Given that there are still a few months before Windows Phone 7.1 Mango is set to release this fall, Microsoft can still do some tweaking to make sure it gets back in the lead, speed-wise at least. We just took an extensive look at the Windows Phone 7.1 Mango technical preview and it looks like a promising update with loads of new features. That along with the fabulous hardware from Nokia, as we know Nokia can deliver from its most recent N9, should give Microsoft a much needed reboot for its Windows Phone platform.
[via WinRumors]