Apple iOS 5.0.1 BETA 2 seeded to developers today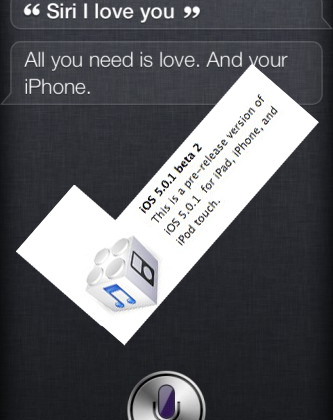 It's time for the update to the next version of Apple's mobile operating system, but not to you, oh readers, to developers only. Yesterday there was a similar download, and today there is another download still, each of these downloads made much more than likely to alleviate the problems users have been having with their batteries, these issues popping up most often in the iPhone 4S. Of course you could be sneaky and find a way to grab the download for yourself by becoming a developer for iOS, but then you might as well go the full mile and start making apps!
This update was posted this morning, today being November 4th, 2011, and should you be a signed-up developer with an iPhone, iPad, or iPod Touch of many different flavors, you'll be getting this update over the air. On the other hand, you could head on over to the iOS Developer Center and download it without waiting. This version is identified by codename 9A404, while yesterdays release was 9A402, and more than likely the changes between the two are rather tiny.
In other iPhone news, this week we've found that >US Cellular almost had the iPhone, yesterday's iOS 5.0.1 beta 1 release enabled iPad gestures, and the battery issues are real. Also be sure to check out how Tim Cook is turning down the heat at Apple and GarageBand is released for iOS. Believe it!