Apple iOS 11.2.6 fixes iPhone Telugu message crash bug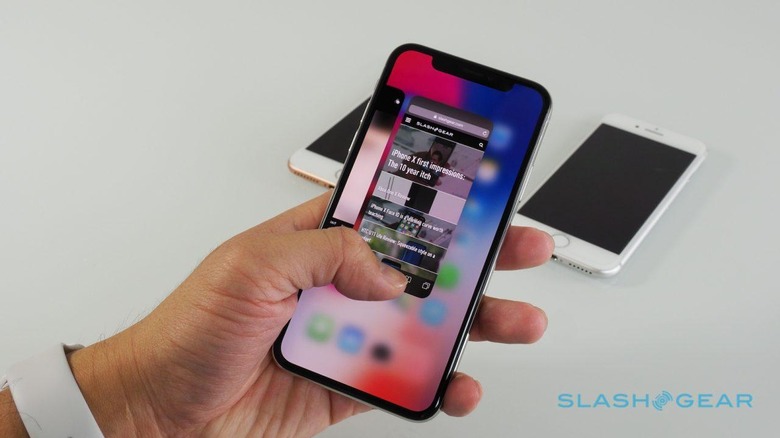 Apple has pushed out an iPhone update, iOS 11.2.6, fixing the Telugu character bug that left iOS messaging apps crashing. The new patch comes less than a week after Apple confirmed the problem, which affected not only the company's own Messages app but third-party messaging software like Facebook Messenger, Gmail, and WhatsApp.
It was a fairly simple glitch. Devices which received the Indian language character in one of the affected messaging apps would crash, and then continue to crash every time they were reloaded. The only way to fix the issue was wait for a new message to come in, and then try to delete the old thread without the app attempting to load it first.
Unfortunately it wasn't the first time Apple's software has proved to be susceptible to an odd message. Last month, for example, Apple patched an issue where a certain URL could crash the iOS Messages app, or cause the macOS Messages app to slow down or freeze completely.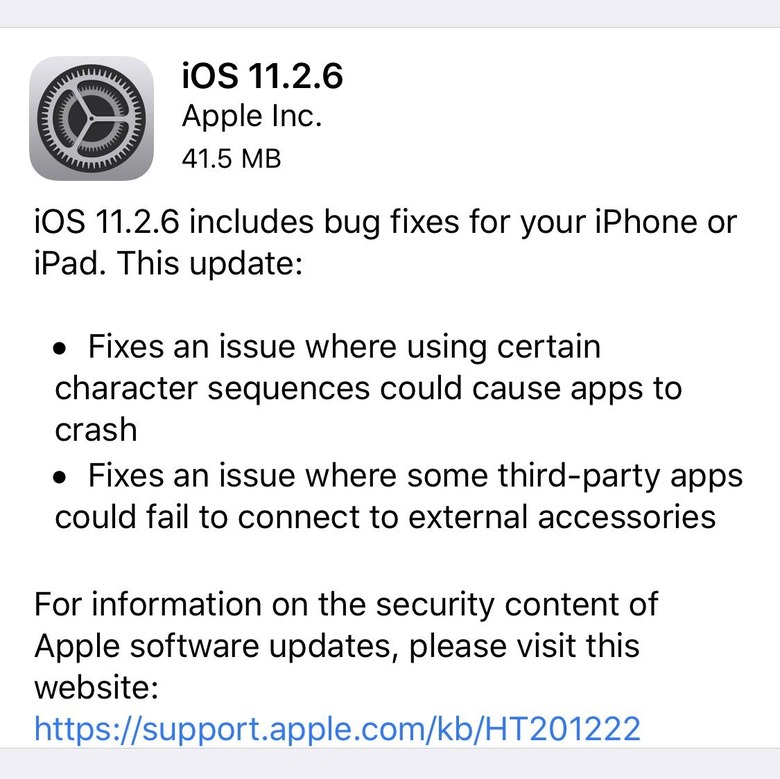 Last Thursday, Apple said that it planned to release a patch update to address the Telugu issue. Sure enough, just a few days later, iOS 11.2.6 has arrived. According to Apple's release notes, the roughly 42 MB download "fixes an issue where using certain character sequences could cause apps to crash."
To be specific, the update addresses a problem identified by "an anonymous researcher," Apple says, in CoreText. "Processing a maliciously crafted string may lead to heap corruption," the Cupertino firm explains. "A memory corruption issue was addressed through improved input validation."
The update also "fixes an issue where some third-party apps could fail to connect to external accessories," Apple says.
Software stability has become a hot-topic issue for Apple in recent months, as the company faces criticism for its ambitions outstripping quality control. According to reports earlier this month, the chatter has stung the iOS team, and prompted a change of strategy for iOS 12. Rather than chasing dozens of features – many of which would traditionally be announced at WWDC and then struggle to arrive in time for the full iOS release – Apple is said to be planning a more strategic, low-key update that would focus on a few, well-polished additions rather than a great number of changes.
You can find the iOS 11.2.6 download by going to Settings > General > Software Update on your iPhone, iPad, or iPod touch. Alternatively, if you have automatic updates switched on, your iPhone should upgrade itself to the newest version while idle overnight. In addition, there are also updates for macOS, tvOS, and watchOS to patch their susceptibility to the same Telugu character crash bug.