Apple Implies It's Done Making External Monitors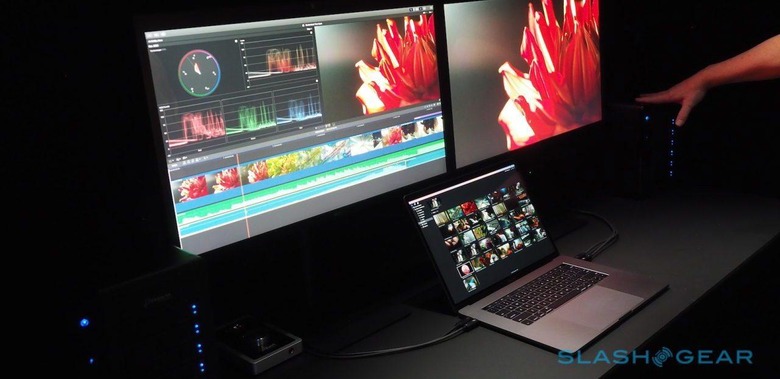 While expectations were high for the new MacBook Pros that were announced this week, among the other possible products that was anticipated was an update to the Thunderbolt Display, Apple's now-discontinued stand-alone monitor. There was no sign of such an Apple-branded display, but instead we were shown a new 27-inch 5K UltraFine Display from LG, co-designed by Apple to work with the new 13- and 15-inch MacBook Pros.
Ok, Apple featured a LG monitor on-stage, no biggie, it could still be working on its own Thunderbolt Display replacement, possibly with the much-rumored 5K and integrated GPU, right? Nope. It appears that Apple is permanently done making external monitor products, according to comments they made to the press following Thursday's event.
LG 5K display is perfect for new MacBook Pro
Along with tweeting a link to Six Colors article, The Verge's Nilay Patel wrote that Apple told him it was out of the standalone display business. It wasn't mentioned exactly who the statement came from, but there it is.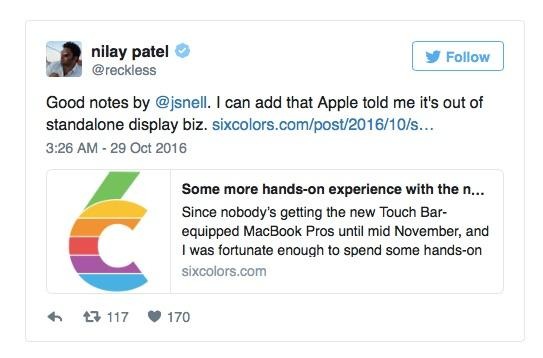 While it doesn't come close to matching Apple's design aesthetics, the LG 5K UltraFine Display still manages to cover all the functionality of the discontinued Thunderbolt Display, including using a single Thunderbolt 3 cable for charging and multi-stream data transport with a connected MacBook Pro. The iMac's 4K and 5K display panels also come from LG, so this is about as close to an official Apple-endorsed product as you can get.
We went hands- (and eyes-) on with LG's 5K UltraFine Display when spending some time with the new Apple laptops, as well as LG's other MacBook Pro companion, the 21.5-inch 4K UltraFine Display, so be sure to check out our impressions here.
SOURCE Nilay Patel