Eyes-on with the LG 5K display perfect for the new MacBook Pro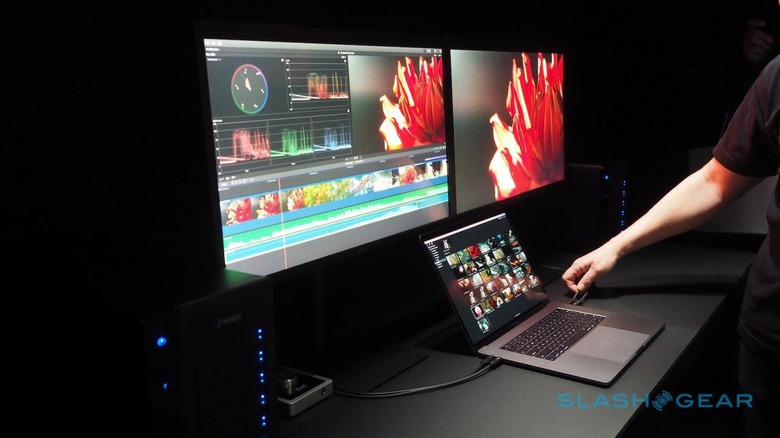 Apple may have delivered on a new MacBook Pro but desktop power-users didn't get the Apple Thunderbolt 3 Display they were hoping for at yesterday's event. Instead, we had the fruits of an unexpected collaboration with LG, in the shape of a co-created monitor that should have sufficient pixels to keep even demanding MacBook Pro owners happy. It's called the LG UltraFine 5K Display, and it looks pretty darn impressive in person.
Admittedly, Apple had tilted things in the UltraFine 5K Display's favor in its post-keynote demo area. A darkened room and a twin display setup certainly helped the color-rich panel look its most dramatic, managing to distract even from the eye-catching Touch Bar above the new notebook's keyboard. Still, it should be able to hold its own even in more mundane environs.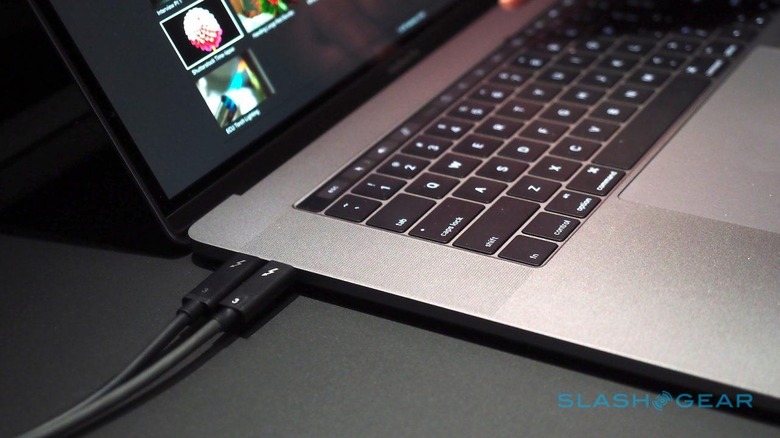 For a start there's the convenience. Since it relies on the new Thunderbolt 3 port on the MacBook Pro, using the USB Type-C connector, the LG monitor also works as a docking station. A single cable handles video output and powers the notebook.
There are also three USB Type-C ports on the back, which can be used to daisy-chain peripherals. That might be external drives, a printer, or a memory card reader – the new MacBook Pro drops, unfortunately, the SD slot of its predecessor. You also get a webcam and speakers.
Sadly, you don't get an ethernet port as the original Thunderbolt Display provided, so this isn't quite the do-everything dock we might've hoped for. If the rumors are true, that's something Apple itself is working on still. Indeed, it could even take advantage of Thunderbolt 3's 40 Gbps data connection and integrate an external GPU, boosting the graphics potency of the connected notebook in a way that would presumably be most welcome for 13-inch MacBook Pro owners who don't get discrete graphics.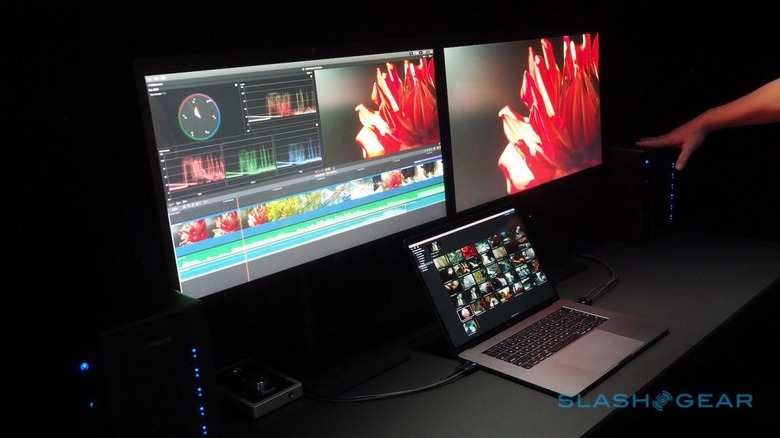 That's not to say the LG UltraFine 5K display disappoints where it matters. The 5120 x 2880 panel is bright, clear, and a fitting match to Apple's Retina display courtesy of hitting 99-percent of the P3 color space. If you're feeling really expansive, and your budget and desk can handle it, you can drive two of them from the 15-inch MacBook Pro.
The 13-inch version can handle one 5K display, or alternatively two 4K screens. Funnily enough, LG has just the thing there, too: a 21.5-inch baby brother to the UltraFine 5K. Dubbed the UltraFine 4K Monitor, it has a 4096 x 2304 resolution IPS panel also with 99-percent of the P3 color space.
It actually relies on USB-C rather than Thunderbolt 3, which means it'll play nicely with the 12-inch MacBook too. On the back there are three USB Type-C ports, though while you get the stereo speakers you miss out on the webcam of the bigger monitor. Still, it'll also provide power for recharging both your MacBook and your MacBook Pro.
NOW READ: New MacBook Pro hands-on
LG says the new 5K UltraFine 5K Monitor will hit shelves in early December, while the 4K version will arrive a little sooner, in November. Pricing is yet to be confirmed for the 5K model, though we already know that the LG UltraFine 4K will be $699.95. You can preorder that now, and it'll apparently ship in 5-6 weeks time.