Apple Hinting Just One New iPhone On October 4?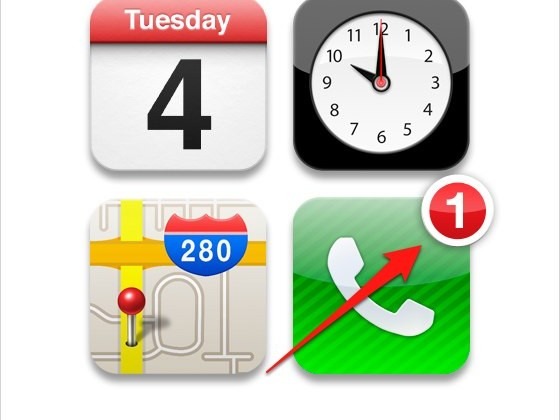 Apple's iPhone event invite for next Tuesday's smartphone reveal may only have been in the wild for an hour, but that hasn't stopped the armchair analysts from digging through the graphics for clues. The Cupertino company is known for burying hints into its invites, and at first glance there are quite a few possibilities for this October 4 picture. Most notable, however, is the idea that Apple is hinting at a single new handset.
The time and date icons are obviously a reference to the arrangements of the presentation keynote itself, which begins at 10am PT and is being held on Tuesday 4th. The map icon shows 1 Infinite Loop, the location of Apple's campus next to Route 280.
However, the "1" indicator – for one missed call – on the phone icon is what has soothsayers curious. Apple has previously been tipped as readying a pair of new iPhones for launch, a so-called iPhone 4S to target the prepay market, and the true iPhone 5 which would have a bigger screen, considerably changed aesthetic and sit at the top of the range as a flagship device.
That may not, in fact, be the case however, if the "1" does indeed refer to a single iPhone. Other rumors have suggested that the iPhone 4S sightings are merely the new iPhone 5 hardware wrapped up in a familiar chassis so as to put leaky tipsters off the trail. No way of knowing for sure until next week, so join us at 10am PT on October 4 for the full SlashGear liveblog at http://live.slashgear.com/!
[Thanks to everyone who pointed this out!]