Apple HDCP Mini DisplayPort problem partially fixed with update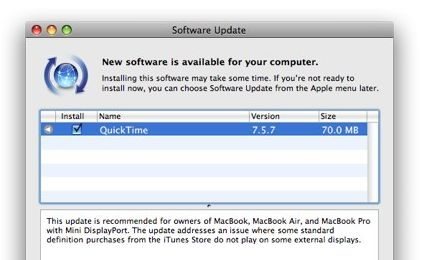 Apple has addressed the Mini DisplayPort HDCP issue with an update to QuickTime.  Users had complained that, when using a Mini DisplayPort to DVI or VGA adapter cable, their new MacBook, MacBook Pro or MacBook Air refused to display standard definition content on attached monitors or projectors. 
The issue arose because, using an adapter cable, the HDCP content protection could not complete its security handshake with the display.  As a result, the MacBook would refuse to display the media.
QuickTime version 7.5.7 – a 70MB download offered only to those with Mini DisplayPort equipped MacBook models – removes this limitation, though only on standard definition content.  High-definition media is still subject to the same HDCP security, and as such is not playable on any monitor or projector that lacks the new connection.
[via TUAW]