Apple grabs top spot on list of the world's most valuable brands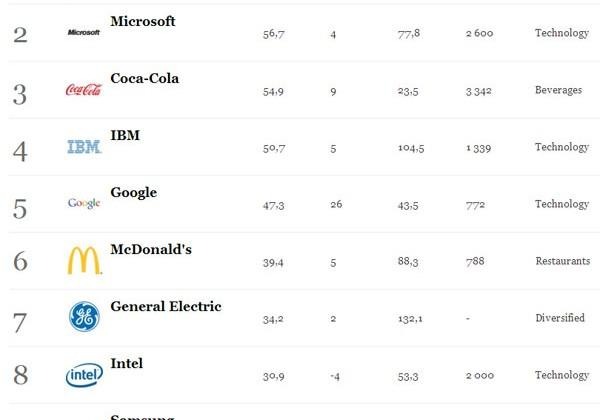 Apple has been one of the most valuable companies in the world for a long time. The list of the most valuable brands in all the world has been published again by Forbes and Apple is at the top of that list for the third time. Despite Apple remaining at the top, the list has shuffled compared to the last time we talked about it in September. In September, Apple held the top spot, Google was in second place, Coca-Cola was in third, IBM was fourth, and Microsoft was in the fifth-place spot.
Apple is still top of the list with a value worth an estimated $104.3 billion for an increase of about 20% compared to last year. Apple is worth almost twice as much is any other brand on the list. Despite some analysts saying Apple is losing its innovative edge, the company is doing very well selling 33.8 million iPhones during the last quarter while moving 14.1 million iPads and 4.6 million Mac computers.
Microsoft clawed its way up the ranks on the list going from fifth place in September to the second place spot on the most recent list with the brand value of $56.7 billion. Coca-Cola is still in the number three spot and with a value of $54.9 billion. The soft drink company is also the only non-tech brand in the top five on the list. IBM still holds the four spot, Google has dropped to fifth, McDonald's is in sixth place, and GE is in seventh.
Intel holds the eighth place on the top ten list, with Samsung in ninth and Louis Vuitton in the tenth place spot. Samsung may be sitting in the ninth place spot, but it had the biggest one-year gain of any brand in the top 100. Samsung's value increased by 53% to $29.5 billion in the latest list.
SOURCE: Forbes