Apple most valuable brand of 2013, leaves Coca-Cola in the dust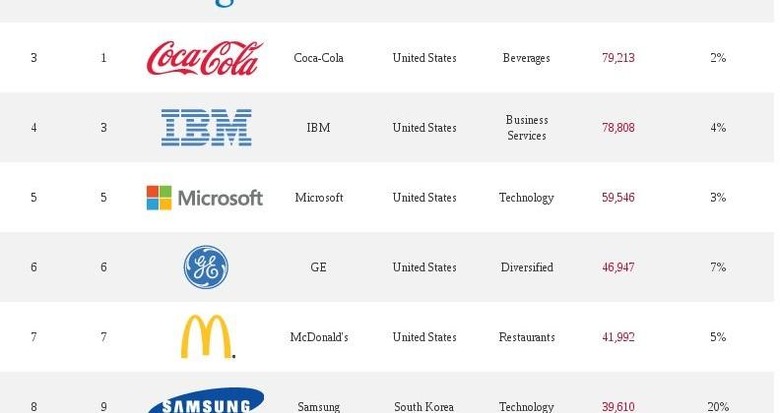 Apple has something new to boast about as it grabs a coveted top spot in the most valuable brands of 2013. Following closely is search giant and Android maker Google at second. The two technology companies have displaced former king Coca-Cola for the first time in the list's history, possibly signifying a shift in market perception and brand valuation.
Interbrand, a corporate identity and brand consulting company owned by the Omnicom Group, has been compiling an annual list of top 100 brands since 2000. The list has been closely followed and used as a thermometer of the market perception and reception brands. The final figures in the list are based on numerous criteria, including financial performance and geographic coverage.
For the first time in 13 years since the list was started, soft drink maker Coca-Cola was stripped of its crown and has landed in third place. Apple, which now occupies the top spot, has steadily risen from being 8th in 2011 to second last year. While the Coca-Cola brand still holds great value, its demotion probably reflects a growing market trend, as it is the only non-technology brand in the top five.
Google has also climbed up from last year's fourth place to land in second place, pushing Coca-Cola down even further. That position is now occupied by IBM, who has descended from third to fourth. Surprisingly, Microsoft has managed to keep its feet on the ground, remaining at fifth place. Other keepers include GE at 6th and McDonald's at 7th, the only other non-manufacturing brand in the top 10.Samsung, one of Apple's chief rivals, has managed to climb up by one spot from 9th to 8th, displacing Intel who went from 8th to 9th. Toyota rounds up the top 10 brands, with car manufacturing rivals Mercedes-Benz and BMW following not far behind.
SOURCE: New York Times