Apple: Fragmentation-Feeding Kindle Fire Only Good For iPad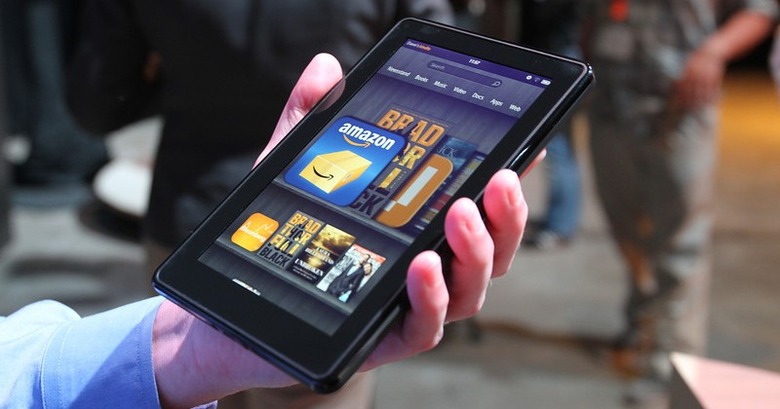 Apple execs reportedly have no fear of the Amazon Kindle Fire, according to analysts meeting with CEO Tim Cook and others at the firm, because the 7-inch slate will only highlight Android's growing fragmentation problem. Cook and Apple CFO Peter Oppenheimer supposedly told Barclays analyst Ben Reizes that the stability of the iOS could prove to be the iPad's greatest allure, Business Insider reports, and that "the more fragmentation, the better."
The Kindle Fire – announced in late September and shipping on November 15 – runs Android 2.3 Gingerbread, a version of the OS that Google intends for smartphones rather than tablets. However, Amazon's software team has significantly redesigned the interface, replacing it with the retailer's own UI. The upshot is heavy integration with Amazon's own Kindle ebook, Prime video streaming and Music Store downloads; the downside is no official Android Market access, instead relying on Amazon's own Appstore for Android.
"While the pricing at $199 looks disruptive for what seems to be the iPad's most important rising challenge, the Amazon Fire – it is important to note that it could fuel further fragmentation in the tablet market—given it represents yet another platform. While compatible with Android, the Apps work with Amazon products. The more fragmentation, the better, says Apple, since that could drive more consumers to the stable Apple platform. We believe that Apple will get more aggressive on price with the iPad eventually but not compromise the product quality and experience" Ben Reitzes, analyst, Barclays
Fragmentation – or Android devices running different versions of the OS, some with manufacturer customizations – has grown to be an increasing headache for Google, both in introducing delays to older devices getting new versions of software, and in public and industry perception of the platform as a whole. Android lead Andy Rubin has argued that the fragmentation talk is "FUD" and that there's in reality no issues, and Android-based tablets have certainly eaten into Apple's market share.
The Kindle Fire is arguably more appliance than tablet: a way for Amazon to extend its reach into customers' homes by escaping from the browser and into a dedicated piece of hardware. While the slate offers a browser, email and other tablet apps, its core function is to push Amazon's own services. Nonetheless, as we've written before, price holds huge sway in the market and Amazon's $199.99 tag for the Kindle Fire has already gathered a serious number of preorders. Apple may not publicly be worried, but you can bet Cook & Co. will be watching eagle-eyed at the first Kindle Fire feedback.