Apple finally offers an iPhone Lightning Dock
Apple's big hardware news may be the updated iMac Retina 5K and MacBook Pro 15 today, but there's also a new Lightning Dock for iPhone owners. Quietly added to the Apple Store this morning, the $39 desktop cradle for the iPhone 6 and iPhone 6 Plus is pretty much as simple as you'd expect: somewhere to slot the phone on top, and somewhere to plug it in on the back. However, you do get an extra socket.
On the back of the dock, there's both a Lightning port for power and a 3.5mm headphone jack which offers pass-through audio. So, you could keep listening with your headphones – since the iPhone's own headphone socket will be blocked – or alternatively wire the dock up to a standalone speaker system.
According to Apple, the dock will still work even if you have one of the company's own official cases on your phone, though mileage may vary if you're using a third-party case.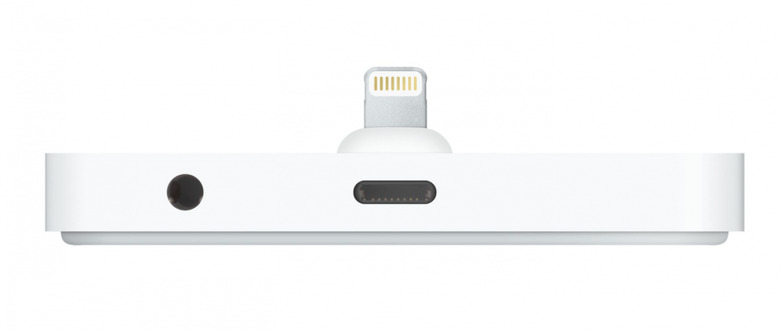 Unfortunately you don't get a second Lightning power adapter, so you'll have to either use the one which came with your iPhone in the first place, or factor in the extra cost of another one separately. Apple currently charges $19 for a 1m Lightning cable and $19 for an AC adapter.
If anything, we're more than a little surprised by the design. There's no apparent support for the iPhone 6 other than the Lightning port itself, which you could imagine would place a fair degree of strain on the connector.
Presumably Apple has done the sums on the forces involved, but if you're a tough-tapper of the touchscreen it might be worth trying to take it a little easier.
The iPhone Lightning Dock is available to order today, priced at $39.
VIA Marco Arment
SOURCE Apple Store