Apple Clips 2.0 "Selfie Scenes" tap iPhone X and Star Wars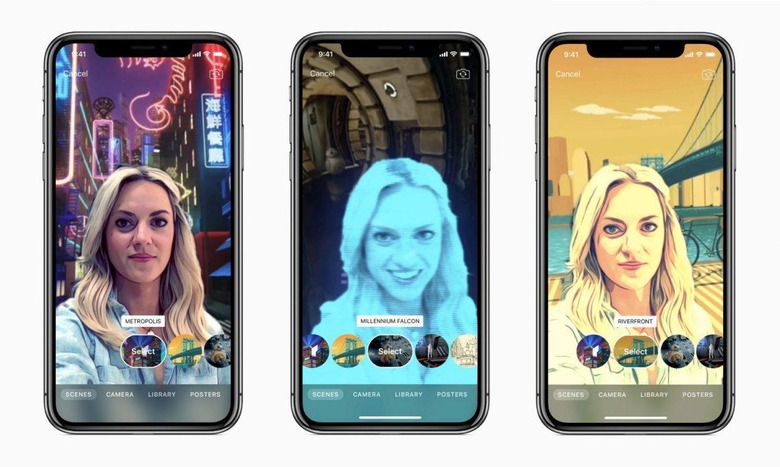 Apple has released Clips 2.0, a new version of its free video creation app, and if you've got an iPhone X it's a must-have download. The new video editing app taps into the TrueDepth camera that occupies the "notch" in the
's display. Until now, that's primarily been used for the Face ID security system, but Clips 2.0 puts it to much more entertaining use.
It's called Selfie Scenes, and it basically involves cutting the user out and placing them into animated 360-degree scenes. Using the same technology that Apple relies upon to take Portrait selfies with the front-facing iPhone X's camera, TrueDepth can differentiate between the subject and their background.
Initially, there are ten different scenes that Clips 2.0 offers. Each has different locations, characters, color-schemes, and even visual styles, with a full 360-degree panorama so that as the iPhone X is moved, the background moves accordingly. They also have matching sound effects.
Two of the Selfie Scenes, meanwhile, have a Star Wars theme. Thanks to a deal with Disney, there is Star Wars: The Last Jedi content, sounds, and graphics, into which Clips 2.0 places you.
Of course, all that is only of use if you have the iPhone X, since no other iPhone or iPad has TrueDepth (though the 2018 iPad is
rumored to adopt the cleverer camera
). Clips 2.0 does have new features that all users can enjoy regardless of device, though. For instance, there's more Disney content, including full-screen posters with Mickey Mouse and Minnie Mouse.
There are also Star Wars stickers, with animated versions of Luke Skywalker, Darth Vader, Princess Leia, and Chewbacca, among other characters. Sixteen new Apple-designed stickers have been added, along with 21 royalty-free soundtracks from indie artists. They'll automatically adjust to match the length of the video you create, and bring the total number of soundtracks available to more than 60.
New artistic effects have been added, to convert photos and video into different themes. For instance, you can be recreated as a moving oil painting or a watercolor, or recreate the famous Take On Me music video by turning into a pencil sketch. Apple has simplified the interface, too, so that more commonly-accessed features like filters, labels, stickers, and emoji are more readily discoverable. There's clearer labeling on controls for Live Titles and editing tools, too, which should reduce the initial confusion when starting with the app, while full-screen browsers show more of the user's content before importing.
If you're an iCloud user, its now possible to leave off Clips edits on one device and then pick them up again on another. Works-in-progress are automatically uploaded to iCloud, though the projects only reference existing videos rather than double-uploading them to make maximum use of space. Shared iPad support has also been added.
Clips 2.0 is available today as a free download from the App Store. It'll work with the iPhone 5s and newer, and the iPad Air and iPad mini 2 and newer. If you want the Selfie Scenes you'll need an iPhone X, while style transfer effects are only available on iPhone 7 and later, or the 2017 iPad Pro.