Apple cheapest MacBook Pro with Retina adds CPU and storage options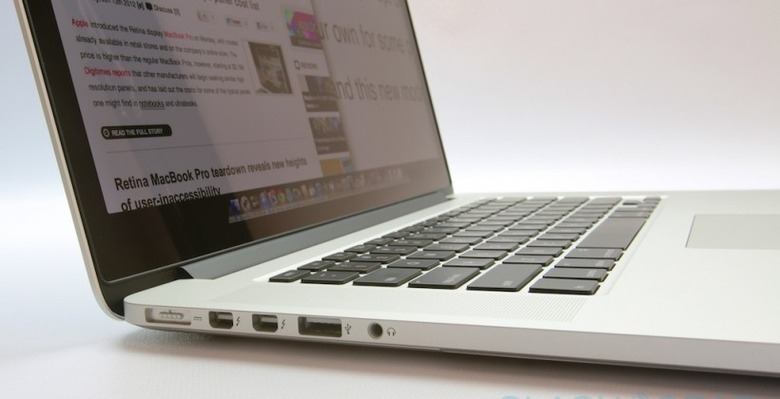 Apple has increased the customization options for its MacBook Pro with Retina Display, now allowing the entry-level model to be tweaked with difference processors and storage. Originally, the $2,199 "base-spec" Retina MacBook Pro was fixed to a specific chip – the 2.3GHz quadcore Core i7 – and 256GB of SSD storage, with only flexibility in how much RAM was included. Now, though, Apple has opened things up for more options.
There are now three processor choices, the original 2.3GHz or a 2.6GHz quadcore for $100 more, or a 2.7GHz quadcore for $250 more. The $2,799 model still starts at 2.6GHz, with 2.7GHz as an option.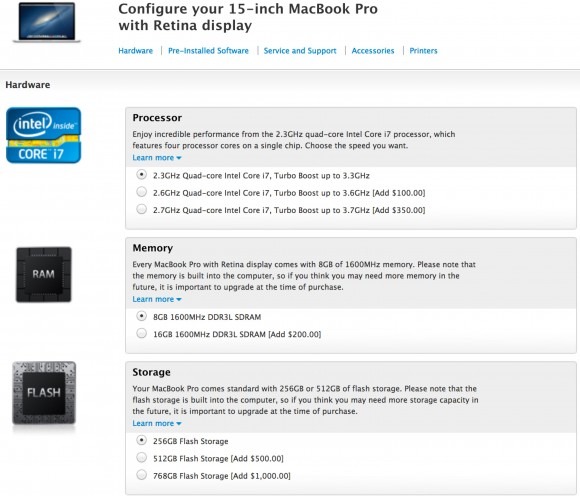 As for storage, it's now possible to upgrade the flash drive to 512GB or 756GB. Neither come cheap, however, being priced at $500 or $1,000 more respectively. Still, it answers complaints of those buyers who wanted more capacity but weren't concerned with the faster processor, and so whom resented the $600 difference (though now they'll only save $100).
There are reports that some shoppers are having difficulties getting the new options to register in their cart, or indeed aren't seeing them active at all, though at time of writing we were able to customize both processor and storage and add that model to our cart.
Either way, you get the innovative and pixel-dense Retina Display itself, which offers both a hugely-detailed 1440 x 900 mode or an HD-besting 1920 x 1200 option. There's more on the MacBook Pro with Retina Display in our full review.
[timleine]
[via MacRumors]