Apple CEO Tim Cook's full AllThingsD interview video now available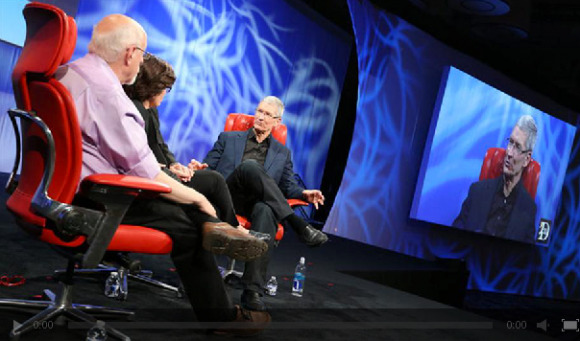 Apple CEO Tim Cook's full interview on the D: All Things Digital stage has been posted, with the 80-minute long video showing the chief exec weighing in on wearables, taxes, and more. Cook's appearance – and grilling at the hands of Walt Mossberg and Kara Swisher – saw the Apple CEO relatively tight-lipped on the sort of breaking news his interviewers were digging for, though he did drop hints about a new iOS version at WWDC 2013 next month.
Some of Cook's attitudes suggest an Apple at odds with Google's approach to mobile computing, with comments about Glass lacking in broad appeal. Instead, Cook says, he sees more value in more single-purpose wearables, namechecking Nike's Fuelband as an example (it's worth noting that Cook also sits on the Nike board).
Elsewhere, Cook commented on Apple's lack of a social network – something the chief exec doesn't think the company really needs – and dropped some hints about the incoming new version of iOS. That's believed to be due for unveil at WWDC, with a new, flatter interface style to replace the much-criticized "skeuomorphic" UI of the current version.
Cook does a good job at avoiding dropping any hardware details whatsoever, despite the best efforts of Mossberg and Swisher. However, he does comment on possible iPhone variations, suggesting that just because Apple hasn't come up with a mid- to -low-range iPhone so far, that doesn't mean the door is closed to the possibility in the future.
In all, it's a typically low-key showing for Cook, who lacks some of the confident bombast that Steve Jobs brought to the position. Whether that's something the chief executive should be working on is a point of contention, though arguably with nothing concrete to announce, it might have been difficult for him to frame the interview in any other way.
The big news is undoubtedly being saved for the Worldwide Developers Conference, which kicks off June 10 in San Francisco. We'll be there to bring back all the details from the opening keynote.