Apple announces worldwide one-day Black Friday sale on Nov 25th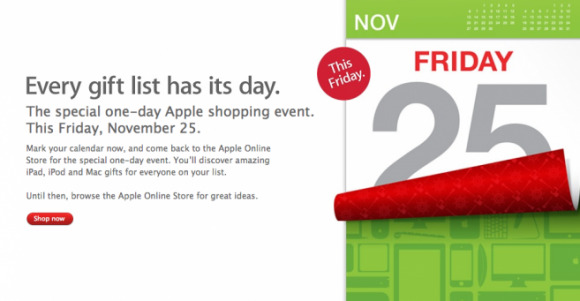 With all the Android news that has been hovering around today, here's an announcement from the other side of the mobile fence, all the way in Cupertino, California. Apple has now begun putting up banners on its online store website for its "one-day shopping event" (the upcoming Black Friday holiday sale, no doubt) next Friday, November 25th. This is looking to be a worldwide event, so for all our non-US readers out there, you can breathe a little easier come this Black Friday.
Though the banners as of yet are only appearing in the UK, Australian, and Italian online stores, it should be rolling out to the US store shortly (hence the emphasis on it being a worldwide sale day for Apple). Unfortunately, at the current moment, We don't know what exactly going to be on sale, or how much, but rest assured, we'll have updates once we get more information. Until then, here's all we have, including apparently the iPad, iPod, and various Mac models "for everyone on your list":
Mark your calendar now, and come back to the Apple Online Store for the special one-day event. You'll discover amazing iPad, iPod and Mac gifts for everyone on your list.
So SlashGear readers, what's on your Black Friday wishlist from Apple this year? Apple's Siri-enhanced iPhone 4S? A sleek and sexy iPad 2? A Mac? Which Mac? Go ahead and reveal to us in the comments below. And let's hope that Apple will be nice enough to knock off a couple hard-earned dollars off your dream gadget come this Black Friday.
[via 9To5 Mac]