Apple and HTC settlement agreement surfaces, is heavily redacted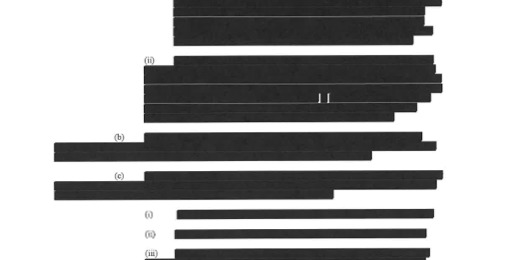 In the middle of November, Apple and HTC formed a settlement that ended a two-year legal struggle over patents. Samsung followed up by filing a request in court for access to the settlement details, which it was granted a few days later. Now the general public gets to see a redacted version of the settlement, which reveals few precious details.
As you can see in the sample above, the agreement document has been heavily redacted, with very few details left visible. It was Samsung that made the redacted agreement available, submitting it to the public for reasons we can only speculate about. The few things it does reveal are scattered among 140 pages.
What we do know is this. Apple and HTC have settled on a non-exclusive, non-sublicensable, and non-transferable license for specific patents from both companies. There are provisions that exclude nine HTC patents and various Apple patents, as well as an arbitration process in place for any product Apple decides HTC has cloned. Specific devices and other such details are all hidden.
Perhaps most amusingly, the redacted document leaves visible the fact that both Apple and HTC agreed to remain silent on the issue. This, of course, follows on the heals of the seemingly never-ending patent wars various companies are engaged in, particularly Apple and Samsung, who have been at each other's proverbial throats. The two companies are currently engaged in a lawsuit over patents scheduled for trial in 2014.
[via AllThingsD]