Apple AirPods upgrade: Two reasons 2nd-gen AirPods are worth it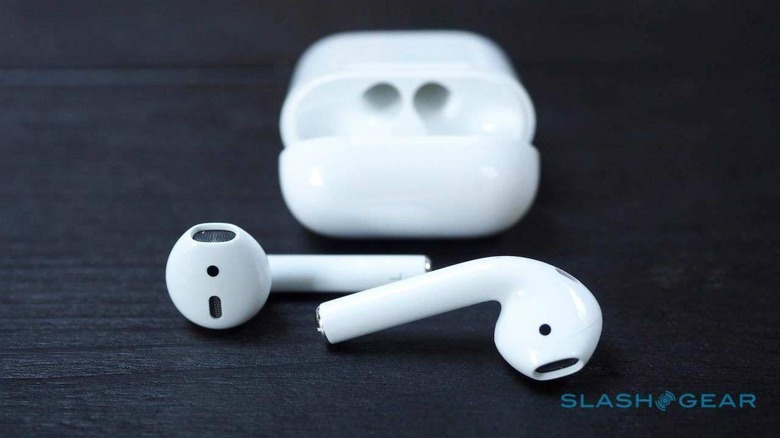 Apple's new AirPods are here, and while there are several obvious reasons to upgrade, for me it's the small – but important – details that have my finger hovering over the buy button. A perennial success since they first launched in 2017, AirPods epitomize Apple getting things right when it comes to convenience and simplicity. Question is, if you're a happy first-generation AirPods owner, should you be upgrading?
There are the obvious AirPods upgrade reasons
Apple isn't short on headline features for the 2019 AirPods. The wireless charging case is, unsurprisingly, the biggest difference to the 2017 originals. That still has a Lightning port on the bottom, but the ability to drop your AirPods on a Qi-compatible pad – or the rear of your Samsung Galaxy S10 – and have it top up could be super-convenient to those who have embraced wireless charging.
Then there's Hey Siri support. Being able to ask Apple's assistant for help, to control your music, or just what the battery level of your AirPods is currently – without having to tap them first – could be a big boon, especially if you're already in the habit of using Siri day to day.
The other big change is also power-related. Listening time for music is the same as before, with up to five hours promised from a single charge of the earbuds, or more than 24 hours when the case is taken into account. For calls, though, you're getting 50-percent more time from the earbud's battery – three hours instead of two – and a total of 18 hours when the case is taken into consideration, rather than 11.
Beyond the headline stuff, though, are the smaller improvements. They may not sound like much on paper, but collectively they could make a significant difference to everyday usability.
Faster wireless device switching
In theory, AirPods are designed to work across all your Apple devices. Once you pair them with your iPhone, for example, they'll automatically be registered with any other device signed into the same Apple ID. That means you can click on the Bluetooth icon in the toolbar of your Mac, choose your AirPods from the list, and switch the audio across to there instead.
That's the idea, anyway. In practice, with the original AirPods, it can be a little more frustrating. The time it takes to transfer the earbuds' connection from one device to another can, I've found, mean the difference between missing a call because you wanted to answer with AirPods but they were being used with your Mac. Alternatively, just getting them to connect to my MacBook Pro from my iPhone can be a chore, to the point where at times I wonder if I should keep a set of wired headphones to hand, just in case.
I've not tried the new AirPods yet, but I'm taking Apple's promise of faster, more stable wireless connectivity to heart. The Apple H1 chipset, with its Bluetooth 5.0 support, is apparently up to twice as fast when switching between active devices, Apple says. Meanwhile the speed at which AirPods connect to answer a call is up to 1.5x faster. That's an improvement I should notice every day.
An external charging light
The original AirPods charging case had a status LED, but it was under the lid. That meant, if you wanted to be sure your earbuds were charging, you needed to flip the case open – or check from your iOS device. I'll admit, there have been times I've plugged the case in, thinking the AirPods are charging, but not realized that the other end of the Lightning cable wasn't, actually, plugged into the charger itself.
An external LED to show charging status, then, is a small tweak that could make a big difference. It'll also pay dividends when wireless charging: at a glance, I'll know whether the AirPods case – and the earbuds inside it – are actually getting power or not. Given the case is smaller than a smartphone, and thus might require a little consideration in positioning atop the average Qi wireless charging pad, keeping an eye on the light could mean the difference between getting a full charge or leaving the house with a dead set of earbuds.
Are the new AirPods worth the upgrade?
If, like me, you're a contented first-gen AirPods user, you might be asking if these refreshed earbuds and their new case are worth spending $199 on. I'm still yet to actually try the new AirPods – though we should have a review soon – but it's already clear that the upgrade decision hinges on a few factors.
SEE TOO: AirPods 1st-gen Review
If your AirPods batteries are starting to hold significantly less of a charge – not an impossibility, if you're a frequent user and have had them for two years at this point – then it might be worth upgrading. Apple offers battery replacement for your existing AirPods, but at $49 per earbud, and a further $49 for the case, you're not far off the price of a whole new second-generation set.
However if you're only really interested in wireless charging, Apple is offering the new Qi-compatible AirPods case on its own, for $79. Not cheap, but it might make for a good stopgap until the next set of AirPods the rumor mill is expecting, which are likely to have features like active noise cancellation. Who knows, maybe they'll even be available in different colors, finally.
If you're yet to take the dive into AirPods ownership, though, now seems a great time to do it. Longer battery life and faster connectivity are going to make great earbuds even better – not for nothing are the original AirPods one of my favorite Apple products from the past few years. Indeed, the hardest decision you'll probably face is trying to decide what to have engraved on the side.