Apple 23-Inch Cinema HD Display Discontinued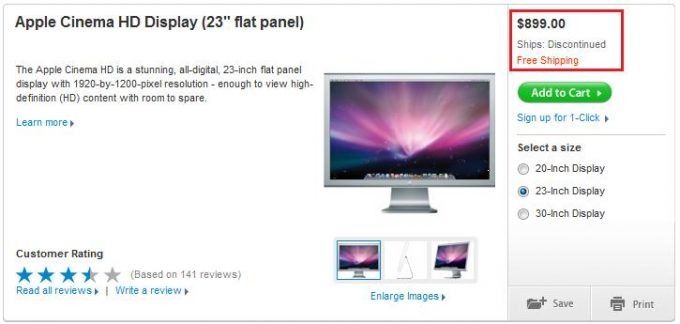 Apple have quietly discontinued the 23-inch Cinema HD Display, making room for the new 24-inch Cinema Display announced back in October.  The 20-inch and 30-inch versions of the original are still available; however, only refurbished 23-inch models can be bought through Apple themselves.
While it seems unlikely that people would complain about an extra inch, the significant difference for many between the old and the new panels is the screen finish.  The 23-inch Cinema Display has a matte-finish, while the new 24-inch follows in the footsteps of the new unibody aluminum MacBook and MacBook Pro with a gloss-finish. 
Connectivity for the new panel does improve, though.  It has Apple's new favored Mini DisplayPort connection and as such should avoid the HDCP problems reported recently.  It also includes three USB ports, a MagSafe charging connector, integrated stereo speakers, iSight camera and microphone, all for $899.
[via TUAW]