Anybots telepresence robot now shipping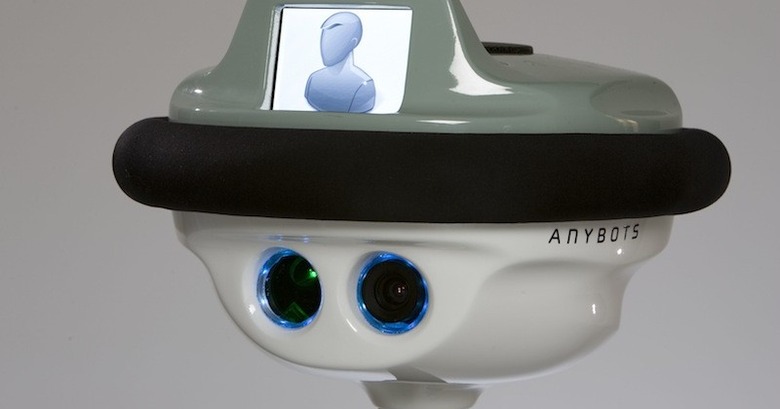 Anybots' telepresence business robots have now begun shipping, offering remote control of a balancing robot with two-way audio and video. Billed as a challenge to business travel, Anybots went up for pre-order back in July 2010; those customers will start to get their 'bots this week, while new orders will ship in March.
There's also a new high definition zoom for the 5-megapixel onboard camera, and support for WiFi b/g/n. Anybots reckons battery life is up to eight hours, and they can shuttle around at up to 3.5mph.
Collision avoidance and a collapsable design make for easier transportation, and the whole thing is controlled by a regular Mac (with PC support due in March). Yours for $15,000.
Press Release:
Anybots Starts Shipping Business Robots

Anybots Ship with a Slew of New Features, Business Travel Changes Forever

MOUNTAIN VIEW, Calif., February 1, 2011 – 8:00 a.m. PT

News Facts:

· Anybots, maker of telepresence business robots, today announced that it has begun shipping product.

· Customers who pre-ordered an Anybot will begin receiving their orders this week. Customers who order today will begin receiving their units in March. To order an Anybot, go to www.anybots.com/#buy.

· The Anybot is the first professional-quality telepresence robot to allow you to work remotely through a simple web interface.

· Here's how it works:

o You are sitting on your sofa, enjoying your morning coffee.

o At the same time, you can be the eyes and ears on the ground at a remote office or factory via an Anybot.

o You control the Anybot from anywhere in the world via the web, letting you work effectively and personally without ever having to step on an airplane.

o You can leap into an Anybot in just one-click of the mouse and immediately be interacting with your team.

o And, when you are done, you can jump out and be back on the couch enjoying your coffee in no time. Meanwhile, another colleague located somewhere else around the globe, can leap into the Anybot for a meeting at the office.

· The Anybots telepresence business robot will ship with new features:

o High definition zoom

o Seamless roaming on wireless

o Two-way streaming video

o Touch screen enabled Wi-Fi configuration

· Anybots also feature:

o High quality audio and clear, stabilized-video (five megapixel high-resolution video camera) for a great interactive experience

o Two wheels so it can run at 3.5 mph to keep up with groups of people and provide a safe way to get around that prevents damage to walls and other objects

o Collision avoidance technology that guides the Anybot around obstacles, such as doors

o A lightweight design (35 pounds) to be easily pushed, carried or adjusted to fit in a car seat

o A professional and friendly appearance so people pay attention and take you seriously

o Easy and inexpensive installation, all you need is Wi-Fi and a computer (currently available on the Mac and PC-compatible by March)

o The ability to sit in a corner when idle and charge

o Sharing capabilities so it can be used by company users at a time

o Eight hours of battery life and support for 802.11n Wi-Fi

Quotes:

Attributable to Trevor Blackwell, Founder & CEO, Anybots

After years of work and months of beta testing, we're looking forward to seeing the various uses the market comes up with for Anybots. Beyond just letting you be in two places at once – which changes the world of the business traveler – we're seeing a lot of use with industry verticals. Everyone from a cookie manufacturer looking to manage remote factories to a CEO who simply can't make it to every meeting in person – teleporting via an Anybot has already given these people a new perspective on work.

Attributable to Phil Libin, Founder & CEO, Evernote

After a few months of beta testing for Anybots, I'm completely in love with it. At first I thought the bot would pay for itself if it could just replace one international trip, but now I realize that the real value is letting me preserve spontaneous interactions at the office even when I'm thousands of miles away. I can jump into the bot at any time and work casually with my team. There's no need to schedule formal meetings or herd everyone around a speaker phone. It's easy to use and it keeps me connected. And it's got a laser beam attached to its head – which, let's be honest, is just good product design.