Anybots QB telepresence robot on sale now for $15k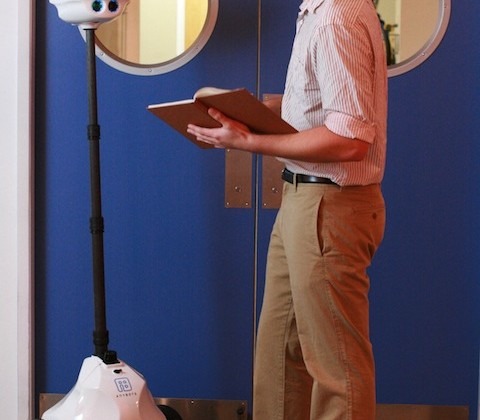 It looks, we have to admit, a whole lot like a frisbee stuck on top of a Segway, but it's actually Anybots' latest telepresence robot, the Anybots QB, and it's on sale today.  The company is taking preorders for the first 100 'bots, each priced at $15,000, with first deliveries expected in fall 2010.  Your money gets you a self-balancing robot – signed and numbered by the Anybots team, no less – together with invites to a launch party and early access to other goodies as part of the company's "100 Club".
If you're more interested in the tech, meanwhile, than the perks, then you'll probably want to know that the Anybots QB has a 5-megapixel camera paired with an LCD display, and can trundle at up to 3.5mph around your office allowing staff working remotely to virtually attend and interact with those on-site.  Connecting via WiFi b/g and a straightforward online UI, the Anybots QB has a battery good for up to eight hours use (which just so happens to be a working day).
At launch the control client will be PC ready, with a Mac version in beta, and there's two-way audio together with a retractable "neck" to make transportation a little easier.  Anybots reckons it'll be great for obsessive CEOs wanting to check what's happening at the office while on holiday, as a "virtual receptionist" or as a way to let clients check in on the progress of their project.  Whether that's worth $15k is up to you.
Press Release:
Making Business Travel Obsolete: Anybots Arrive in November

Anybots Accepting Orders for "100 Club"

News Facts:

· Anybots, maker of telepresence robots, is now taking pre-orders for Anybots QB, the first professional-quality mobile avatar robot.

· This telepresence avatar allows anyone to be in two places at once through a simple web interface.

· The first 100 Anybots pre-ordered will be part of the "100 Club" – owners will:

o Have access to the first 100 Anybots' serial numbers

o Be invited to a reception at Anybots headquarters

o Get VIP Anybots test drives for themselves and five friends

o Have access to on-going perks as Anybots rolls out additional products and services

o Receive their Anybots starting in November 2010 in the order they were reserved

· Additional pre-orders, beyond the "100 Club," will be fulfilled in 2011 in the order received.

· Each Anybots QB costs $15,000 – 10 percent, $1,500, will be due upon pre-order with the balance due at time of shipping.

· To be the one of the first hundred people to own an Anybot, go to www.anybots.com/preorder.

Anybots in Use:

· CEO Staying Connected – Trevor, the Anybots CEO, took a well-deserved trip to Hawaii and extended his time there because he could jump into his Anybot. With the use of a laptop and headset he was "in the office" while enjoying Hawaii's beach paradise.

· Receptionist Working from Home – Suzanne is the Anybots receptionist but lives more than 60 miles away from the office. Instead of waking up at the crack of dawn and dealing with the brutal morning commute, Suzanne teleports into her Anybot avatar to greet company visitors and manage office activities from the comfort of her home. The Anybots team relies on Suzanne as their "virtual receptionist" to provide a friendly atmosphere to those who enter.

· Anytime, Anywhere Factory Tours – A manufacturer for the semiconductor industry used an Anybot to give factory tours while at a recent trade-show. This manufacturer also allows their customers to view inventory, witness factory operations, and attend to problems by jumping into the Anybot with one click. With an Anybot, factory staff feel less like they're being spied (as with traditional mounted surveillance cameras), and feel more like their customer is on the floor with them.

· Luminary in Two Places at Once – Stephen Wolfram attended a conference across the country when long-distance travel was not an option based on commitments at home. Attendees felt his professional but friendly robotics presence as he glided around the stage – and, with the high-quality, low-latency audio, Stephen could have real-time conversations with attendees.

Quotes:

· Attributable to Trevor Blackwell, Founder & CEO, Anybots

Anyone who has ever wished they could be two places at once will appreciate the Anybots avatar experience. Turning the headache of a busy travel schedule into a one-click commute will change the way work and collaboration happens. The Anybots team and our early beta customers have all found teleporting into a location to be such a convenient and enjoyable experience – it'll be fun to see how the rest of the world uses the product.

· Attributable to Bob Christopher, President & COO, Anybots

Mobile telepresence avatars are ideal for office environments – you can physically be there but do it from anywhere with an internet connection. It's no wonder that the most innovative companies – from the Fortune 100 to cutting-edge startups – are evaluating telepresence avatars for collaborating and communication.

· Attributable to Stephen Wolfram, Founder & CEO, Wolfram Research

I've been doing videoconferencing for years, but the mobility of "being a robot" was interesting. It was surprisingly useful to be able to wander around an office as an Anybot. And attending a reception as a robot, people seemed to get used to "me" surprisingly quickly.

About Anybots Telepresence Robot:

The Highlights:

High quality audio and clear, stabilized-video for a great interactive experience

Runs on two wheels at 3.5 mph to keep up with groups of people

Anybots are very safe, its two wheel drive prevents it from damaging walls or other objects

Collision avoidance technology guides the Anybot around obstacles, such as doors

Lightweight (35 pounds) to be easily pushed, carried or adjusted to fit in a car seat

Professional and friendly appearance so people pay attention and take you seriously

No expensive installation, just Wi-Fi and a computer

Able to stand in a corner when idle and charging

Can be shared among several company users at a time

The Basics:

Eight hours of battery life

Supports 802.11g Wi-Fi

Mac-ready for beta testing and will be PC-ready at ship date

Five megapixel high-resolution video camera

3.5 mph normal cruise speed

ABOUT ANYBOTS:

Anybots is a telerobotics company that offers a one-click way to work with others from anywhere. With Anybots, users are no longer geographically constrained and can jump from place to place with a click of the mouse. With Anybots' web-based interface, collaboration can happen at light speed without the cost and wasted time of business travel. Anybots can also be personalized to match the people they represent. Anybots was founded in 2001 by Trevor Blackwell, PhD, and is headquartered in Mountain View, Calif. For more information, please visit www.anybots.com.