Angry Birds Star Wars Released In Cross-Platform Gush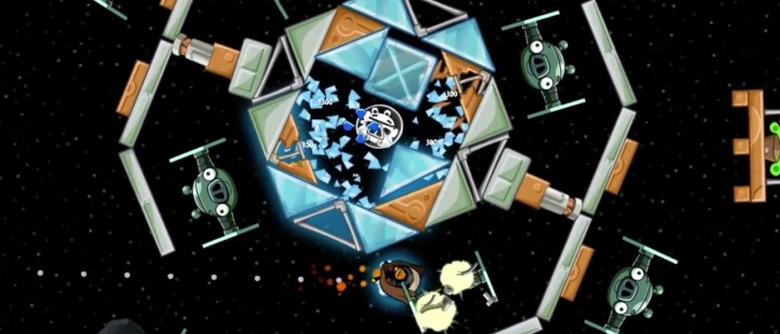 Angry Birds Star Wars has been released, the latest installment of Rovio's best-selling fling 'em franchise, this time with a tie-in to the perennially popular LucasArts movie series. Available across multiple platforms – iOS, Android, Kindle Fire, Mac, Windows, and even Windows Phone from day one - and in both SD and HD versions on select devices, the new game borrows the gravity effects from Angry Birds Space but gives the birds themselves Jedi-style powers.
So, there's an Obi-Wan bird which can use The Force to knock down pig-stacks, while other characters rely on brute force or blasters to do damage. The Mighty Falcon can be summoned if you've enough stars, and – like any good Star Wars tie-in – there are lightsabers to be swung.
Across the 80+ levels, meanwhile, there are various Imperial-themed perils to be avoided or attacked, with Stormtrooper pigs, Tusken Raider pigs, and laser turrets trying to shoot your birds out of the sky. Further levels can be unlocked, with R2-D2 and C-3PO themes.
You can find Angry Birds Star Wars for Android in the Play store (in both free SD and $2.99 HD versions), in the App Store for iPhone ($0.99) and iPad ($2.99), in Amazon's Appstore for the Kindle Fire ($2.99), in the Windows Phone Marketplace, the Windows 8 store, and the Mac App Store.