Angry Birds Reaches 350 Million Downloads, Sells 1 Million Tees, Toys Each Month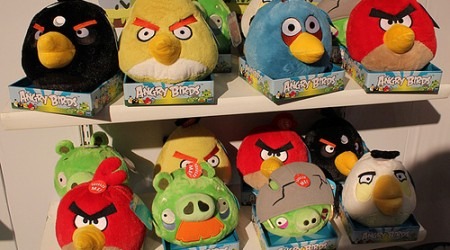 Rovio revealed today some fascinating facts about the game phenomenon that is Angry Birds and where it may be headed next. The strangely addictive game involving shooting birds out of slingshots to kill mischievous green pigs started off on smartphones, but its wild popularity has seen it expand across multiple platforms, including the web, TV, and even in cinemas.
According to Rovio's North American sales manager Andrew Stalbow, the game has been downloaded more than 350 million times and is played on mobile devices more than 300 million minutes collectively each day. However, it's quickly expanding beyond the mobile platform and into multiple media formats, including in short films on YouTube, where it's gotten more than 170 million views.
The game has also had movie tie-ins with the 20th Century Fox produced animated film called Rio. Rovio has plans for more "interesting entertainment partnerships" in the future that will continue expand the game franchise.
Additionally, Rovio has plans to penetrate the Chinese market with over 200 merchandise stores over the next three years and is currently selling 1 million Angry Birds T-shirts and plush toys each month. The company also recently sought funding that could value its business at $1.2 billion.
[via VentureBeat]