Angry Birds outs Galaxy Note update, Android 4.0 ICS missing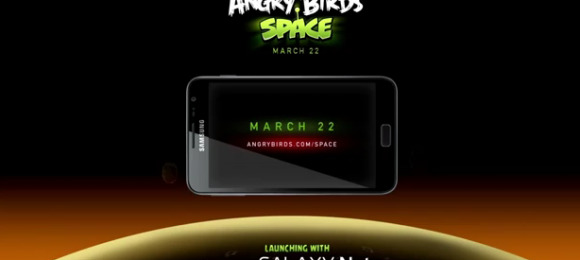 It appears that the possibility that Samsung will be pushing another "Premium Suite" upgrade to their devices instead of the Android 4.0 Ice Cream Sandwich update promised weeks ago may be getting very real. Though we've yet to hear back on the oddity of this particular tip, the words are there for everyone to read, and right at the end of the Samsung Galaxy Note's very own Angry Birds Space teaser 2 video, of all places. We've been teased with this game for some time now, hearing that Rovio is working with Samsung for a release on Samsung smartphones exclusively, that they're working with NASA and National Geographic for cross-promotion, and now that the Galaxy Note will be the first device to roll out with the update.
What's much more important to the vast majority of Galaxy Note owners though, I'm afraid, is the idea that they will not be getting an update to the newest version of Android. Samsung has promised that within the first couple of quarters here in 2012 at least the international version of the hardware would be upgraded to Android 4.0. What you must recall though here is that Samsung also changed their mind several times on the Galaxy S line for that same upgrade – they called it a "Value Pack" back at the beginning of this year.
So what you're seeing here is mostly about the Angry Birds Space upgrade, of course, but the ending is what you're looking for. The other idea here may be that Rovio is bringing a special version of the game to the Galaxy Note for the launch of the game, giving that device access to that version exclusively. This special version could have a new bird, perhaps a few more levels than any other version, or it could just have the Galaxy Note branding splattered across its face. Any way you look at it, there's a Premium version of some cross-branded software coming soon from Rovio and Samsung, and it's coming to the Galaxy Note on the 22nd of March.