Google is rebooting its ambitions in the living room, launching Android TV. "In some ways, the TV space is not much different to the mobile space in 2006," Google pointed out, with smart TVs all having different interfaces, different sets of apps, and no cohesive ways for developers to create one app for all platforms. Android TV aims to change all that.
"This isn't a new platform, that's kind of the point," Google said. "We're just giving TV the same attention that phones and tablets have got."
So, there'll be one Android SDK for all form-factors – phone, tablet, and TV – meaning developers will be able to create one Material Design app. Control can be either from a physical remote – with Google only requiring a D-pad and a way to trigger voice input, which is the predominant way of interacting with the system – or through an app instead.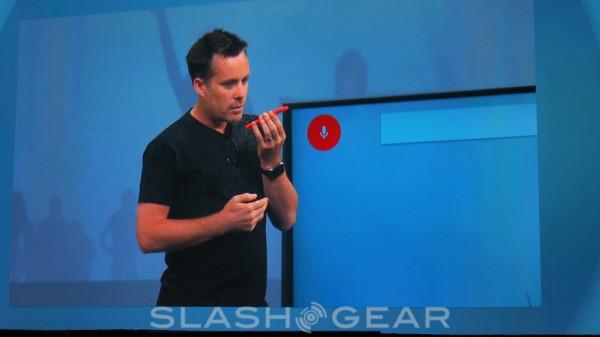 A wearable app allows an Android Wear smartwatch to work as a D-pad with select feature, if the remote or your phone is out of reach.
Search, meanwhile, is built into the core experience, powered by voice. That can include searching for specific titles, like "Breaking Bad", or more broad, open-ended requests. Google showed how you could ask "who was the lead actress in "Hunger Games"?" and get those results on-screen too.
The UI for a TV isn't the same as one for a phone or tablet, of course, and so Google is asking developers to cook up a 10ft user experience. In Android L, the new version of Android, there's a "lean back" experience with new framework classes for easy creation.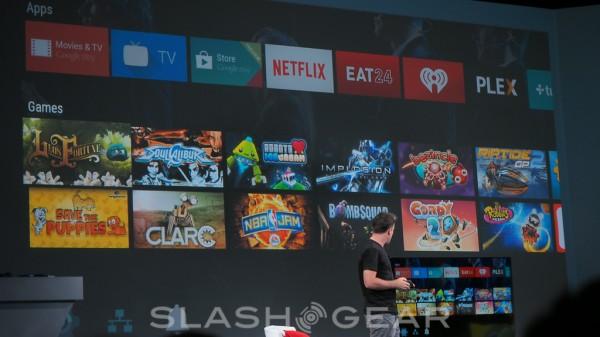 With it, Google explained, the company's own Play Movies team could quickly change the existing tablet app to cater for TVs, all with same APK.
There'll be support for all manner of apps, as well as games, with players able to control them on various different devices from remotes through to phones and tablets.
Android TV also includes full Google Cast support, so that it will work just as a Chromecast for video and music pushed over from other devices.
Netflix, TuneIn Radio, Eat24, Songza, and PBS Kids Video have put together early versions of their apps, which will be included in the preview.
Android TV will be baked into 2015 TVs from Sharp, Sony, and TP Vision Philips. It'll also come in set-top boxes from LG, SFR, Razr, and Bouygues Telecom. The first sets are expected to arrive later this year.
SOURCE Google