Android team wishes you a Santa-laden Galaxy Nexus Holiday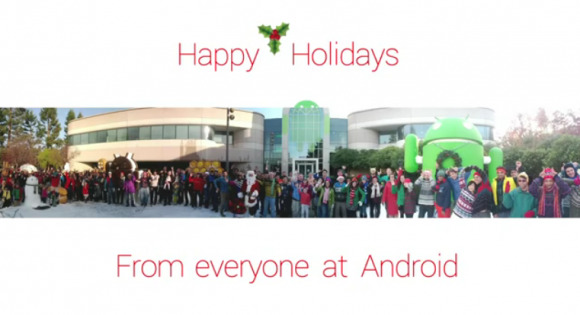 There's a video out there today by the name of Happy Holidays – from Android, which contains spirits being made bright, laughing all the way, and Santa himself, not to mention the brand new Samsung Galaxy Nexus making everyone's noses glow with delight. Of course there's no way this is a response to Santa using Siri, right? It really doesn't matter, what matters is that this commercial is completely lovely and makes for a warm cup of hot chocolate directly from Google's Android headquarters where though it doesn't often snow, it certainly did this year.
You'll find Android figurines galore, the Galaxy Nexus showing off Santa making a call, the original Motorola XOOM making the rounds in the offices of our friendly Android developers. Inside the Santa's Loot frame you'll find no less than the original Samsung Galaxy Tab 10.1 sitting behind glass, the special edition Snowman Android figurine holding on tight, and a subsequent scene with two fellows in blue and white pod seats have them using Lenovo ThinkPad notebooks. Strange choice there fellas!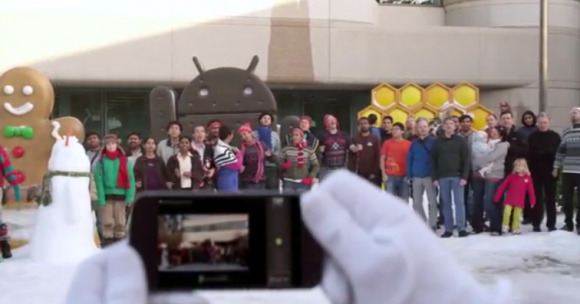 Those same two dudes are also using Android Beam, mind you, and the final scene has Santa using the panorama ability of the Galaxy Nexus (on stock Android 4.0 Ice Cream Sandwich) to capture a lovely scene of the whole Android family. Half of them aren't wearing coats because, believe it or not, it's not really that cold in California right now! Happy holidays from the Android Community — and don't miss our full review of the Galaxy Nexus coming up later today, straight outta Verizon!