Android release of Stardew Valley finally in Google Play, sort of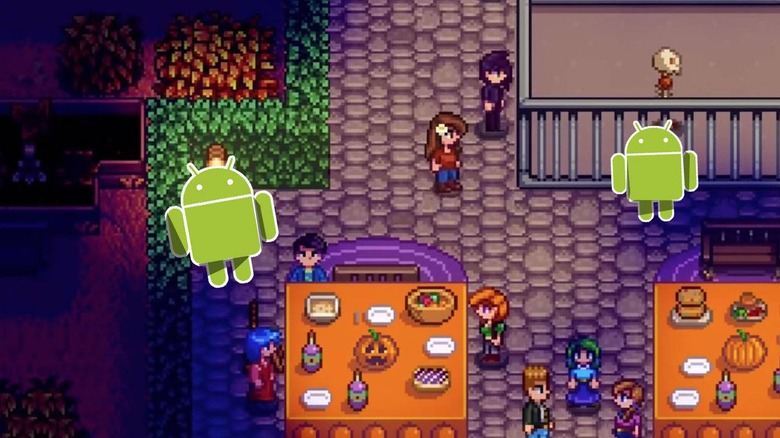 The Android version of the game Stardew Valley is finally almost, nearly, so very close to release – and is on Google Play now. This works as a sort of pre-registration deal and includes the final mobile price: approximately $8, the same as it is on iOS. This game is the full version of Stardew Valley as it exists elsewhere, up to version 1.3. That's everything up to but not including multiplayer functionality.
This game is a farming experience the likes of which you've never before experienced. Unless you've played this game, that is to say. In which case you've definitely experienced this sort of gameplay before – only somewhere other than Android. This game is also out on iOS (Apple devices) and on the PC, plus Xbox One and PlayStation 4 (PS4).
It's a farming game that's meant to be calming. That's a very, very welcome change to the status quo, especially on mobile devices, where the common thread throughout games is IN YOUR FACE ACHIEVEMENT GRINDING AND IN-APP PURCHASES. This game has progressive goals, but nothing that'll give you a heart attack.
The Android version of the game will include "transfer of PC save data" so, if you've played on your desktop, you can continue your game on your phone. The game is in full Google Play pre-registration mode right this minute. Also note: it's rated everything (so long as they're age 10 or above).
SEE TOO: THE BEST GAMES OF 2016: Stardew Valley
This game was originally made for the PC by one developer: ConcernedApe (aka Chucklefish Limited). It was brought to mobile platforms by a crew of developers called "The Secret Police." The game is still listed under Chucklefish Limited, but its development was by a true crew! They've made everything on the desktop version of the game work – plus they've added a bit of mobile-only functionality.
Most recently (for iOS) they've added punch-to-zoom, any-time save (even when you close the app), and a set of joysticks. One joystick is a virtual joystick, the other is an invisible joystick (your choice.) There's a new attack/attack button option, an "improved auto-attack and Joypad adjuster tool" in the mix with customization capabilities throughout.
The latest PS4 and Xbox One updates are incoming – within the next couple of months. They're both getting the big multiplayer update for cross-platform play. The developer of Stardew Valley said he hopes to "release both, simultaneously, within the next couple of months."