Android Oak Trail tablet benchmarks underwhelm: Intel still has work to do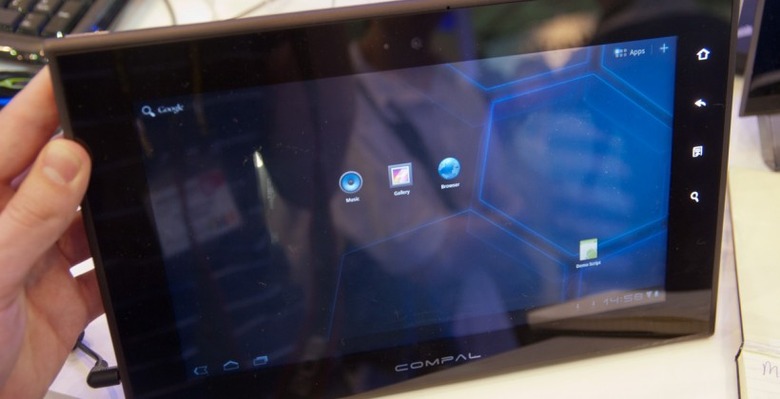 Intel came out fighting at Computex this week, with ambitious Atom plans to take on ARM in its low-power, long-battery Android stronghold. According to the latest, very early benchmarks, however, the chip company may still have some work to do. Tweakers managed to run some tests on a Compal prototype running Android Honeycomb on Intel's 1.5GHz Oak Trail dual-core, finding it to be underwhelming in comparison to existing Tegra 2 based slates.
In CaffeineMark 3, a test of Java performance, the Oak Trail prototype scored 1562, while Tegra 2 tablets like the Galaxy Tab 10.1 and Iconia Tab A500 came in at 7194 and 7197 respectively. Quadrant, meanwhile, brought in a score of 1978, besting Android smartphones but falling short of the 2107 we found the Galaxy Tab 10.1 capable of.
Linpack results were even worse, with the Compal slate managing 9.4MFLOPS versus the 42.2MFLOPS of the Eee Pad Transformer. SunSpider, however, was a rare moment of sunlight: the browser speed test came in with a score of 1500ms (lower is better), neatly undercutting the 1888ms of the ASUS.
Of course, there's more to everyday use than raw benchmarks, but Tweakers say the unit they were using felt sluggish in comparison to its ARM brethren, with apps slow to load and the whole slate getting surprisingly warm under use. Intel has said that it's still optimizing its x86 Android port and so we're expecting – and hoping – things will get better before the first Oak Trail based tablets using the Google platform hit the market.