Android falls slowly as Apple rises in US reports through March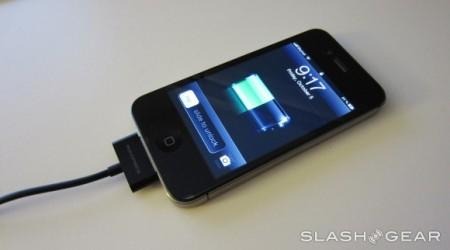 As it has been for the past three months, so it is again here in the March research coming from comScore showing mobile device usage in the USA. While comScore shows Google as the top smartphone platform in the three-month-average ending in April 2013, it remains the fourth month in a row that, while Google's share falls, Apple's rises. BlackBerry, on the other hand, continues to fall with Microsoft's Windows Phone platform while Symbian rests at the bottom of the stack with no change between periods, sticking with just half a percentage point.
It's clear at the moment – and it has been clear for many months – that Google and Apple remain in a war both here in the USA and abroad. The report shown this month by comScore for this same three-month period ending in April shows Apple to be doing battle with Samsung, HTC, Motorola, and LG, each of them (other than Apple) working primarily with Google's mobile operating system Android.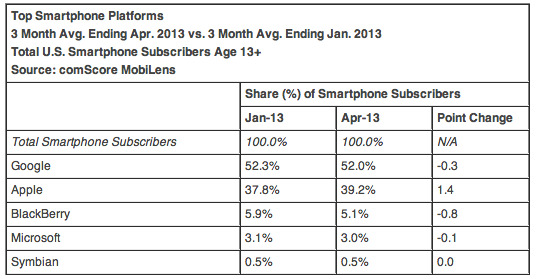 While Apple rises in this "top smartphone OEM" listing by just under 1.5 points, Samsung sits here as the only other hardware manufacturer to gain steam, rising by just over half a point. HTC, Motorola, and LG, on the other hand, have fallen – if only by just a fraction of a point as well.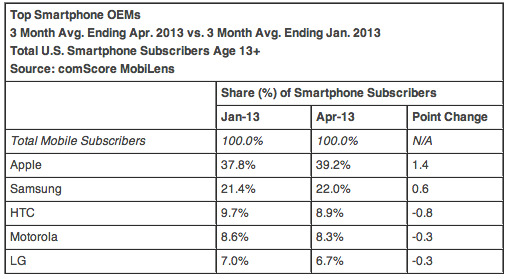 These comparisons are done between three-month periods, its important to note, with the three-month period ending in January of 2013 acting as the first of two sets. This always makes for an interesting period to speak of due to the so-called "holiday season" being in effect. It shows, for better or for worse, which groups are better at engaging the gift-giving crowds and those walking away with holiday cash after the fact.
Also of note is the fact that numbers from last month ended up being so extremely similar to this report, especially with regard to the top two contenders in each category. Keep on watching the trends!
SOURCE: ComScore