Android Auto hits the road as Pioneer upgrade options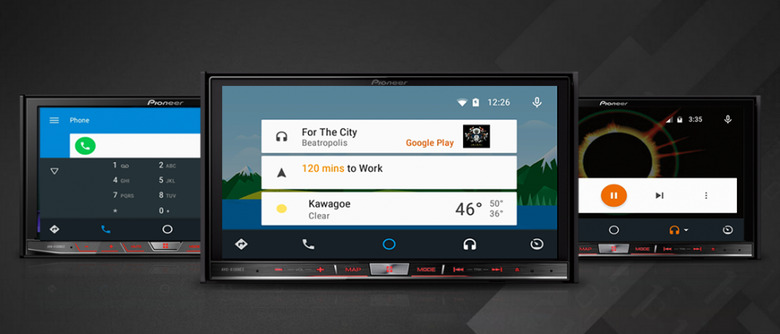 Android Auto might be a tough thing to find on the dashboard of most modern cars, but the first aftermarket upgrades are finally hitting shelves. Pioneer has the first replacement head-units supporting Android Auto (and, for that matter, Apple's CarPlay), with sales beginning in the US, UK, and Australia. Compatible with Android 5.0 devices, the system takes the regular Android interface and reworks it for use while driving, pushing services like Google Maps and Google Now to the fore with bigger buttons and speech recognition.
Multiple car manufacturers have committed to adding Android Auto support, though so far the number of models actually available on forecourts with the system is small.
Last year, for instance, we tested out Hyundai's implementation in the 2015 Sonata, while at CES 2015 Parrot brought along its own aftermarket system.
From Pioneer, there are three models for the US – the AVIC-8100NEX, AVIC-7100NEX, and AVH-4100NEX – all of which can be fitted to a standard double-DIN slot on the dashboard. In the UK, there'll be the AVIC-F77DAB, AVIC-F70DAB, and AVH-X8700BT, while Australia will get just two, the AVIC-F70DAB and the AVH-X8750BT.
Meanwhile, Google plans to give all Android Auto users a 90-day trial of Google Play Music, though the search giant tells us that promotion is "coming soon."
As for apps, Android Auto takes a more laissez-faire approach to third-party titles than Apple does with CarPlay. A new Android Auto collection has been cornered off in the Google Play store, but Google itself will only be checking to ensure titles meet with the interface guidelines.
Titles already available include Spotify, Skype, Kik, iHeartRadio, and ICQ.
US pricing for the new head-unit range kicks off at $700 for the AVH-4100NEX. As for the AVIC-8100NEX, that comes in at $1,400.
MORE Pioneer; Google Play