Android apps exit beta for Chromebook Pixel 2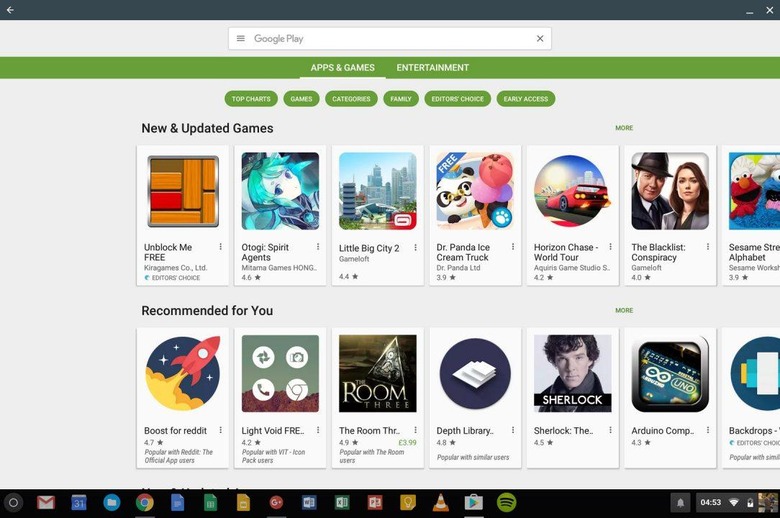 Good news for those of you Chromebook Pixel 2 owners: you can now download Android apps on your device in a non-beta environment. Chromebook Pixel 2 users have been able to beta test Android apps on their device since back in July, but that kind of functionality was only limited to the Chromebook's developer channel. Now, however, it appears that the official update – stable Chrome 53 – is going live, after spending a few months in what was essentially a developer beta.
This means that Chromebook Pixel 2 users will be able to download Android apps from the Google Play Store in a stable environment, though as Android Police points out, there could still be some instability that rears its ugly head in the form of apps that are having a difficult time with the transition.
Considering these apps were originally intended for mobile devices, such instability is to be expected, though it may also be a relatively rare occurrence. The Chromebook Pixel 2 is the last of the initial three Chromebooks getting this update, with the official roll out for the Acer R11 and the ASUS Chromebook Flip happening a few days back.
When we'll see other Chromebooks get this feature remains to be seen, though the reaction to Google's decision to bring Android apps to the platform in the first place has been met with a lot of praise. With that in mind, it's not hard to imagine that the Google Play Store will make its way to other Chromebooks rather quickly. For now, though, those of you with a Chromebook Pixel 2 in your arsenal should give this new Android functionality a spin.
VIA: Android Police
SOURCE: Akbar Hashim