Android 4.3 Leaks For Nexus 4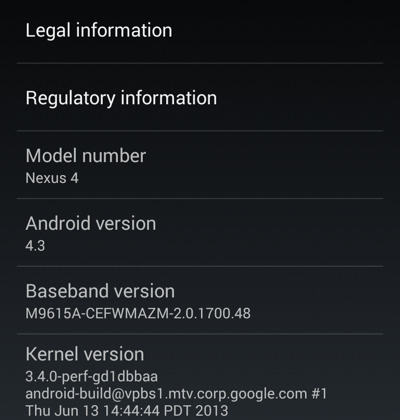 Google still resolutely refuses to give us Android 4.3 – though we're expecting it to finally break cover next week – but that hasn't stopped the leaks, this time with a downloadable version for the brave. The file, shared over at xda-developers, lacks the radio and bootloader, but can still be restored to a Nexus 4 using the TWRP backup app.
If you're desperate for some obvious changes, however, you might be disappointed. Those cavalier enough to try the leaked ROM have said that, on the surface at least, things are pretty much the same as Android 4.2.2 Jelly Bean, with any more significant alterations going on behind the scenes.
According to the source of the leak, Jeff Williams, the culprit was a Craigslist Nexus 4 that turned out to be sold by a Google employee. The ROM the handset was running was Android 4.3, rather than the public version of Jelly Bean, and that then spawned a system dump.
Google is holding an event on July 24, where we're expecting to see Android 4.3 officially revealed. The big question is whether there'll also be a new handset to go along with it, with long-standing leaks around the Moto X indicating the phone is also imminent. Nonetheless, that might have to wait until a dedicated Motorola event, even with Google owning the handset company.
If you want to try it yourself, there's been a flashable ROM put together by another xda-developers user, and a demo video of what you can expect below. As always, you attempt this at your own risk, and those feeling cautious might prefer to wait until Google releases Android 4.3 officially, something we're expecting to be just around the corner.
VIA Modaco