AMD Turbo Dock promises perfect balance for your Win8 hybrid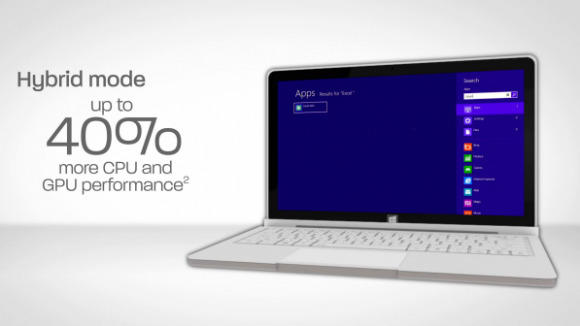 AMD has revealed Turbo Dock, its latest attempt to broach the tablet and ultraportable markets, with a Jekyll & Hyde APU processor that prioritizes performance when docked and battery life when in slate mode. Set to debut on AMD's Temash SoC this year, Turbo Dock is in effect a dynamic throttling system that boosts CPU and GPU performance by up to 40-percent when a hybrid PC is docked, on the assumption that the user is likely to be doing more system-intensive content creation.
When the screen section is removed, however, Turbo Dock automatically throttles things back, reducing power consumption so that the tablet lasts longer. In fact, the system is constantly adjusting depending on what apps are being run, meaning the full potency of the APU isn't employed if all you're doing is watching a video.
Temash, meanwhile, is AMD's latest low-power processor, aimed at Windows 8 powered tablets and hybrids. Built using 28nm processes, it promises five times the graphics performance of Intel's Atom Z2760 – as in, for instance, Acer's Iconia W510 hybrid - and will be available in dual- and quadcore versions.
AMD will be bringing along a selection of demo units to Mobile World Congress next week, to show off exactly what the A6-1450 and other Temash SoCs are capable of. Meanwhile, the first production tablets and hybrids to use Temash and feature Turbo Dock will be launched later in 2013, though no specific brands have been confirmed at this stage.