AMD Turbo CORE auto-overclocks Phenom II X6 CPUs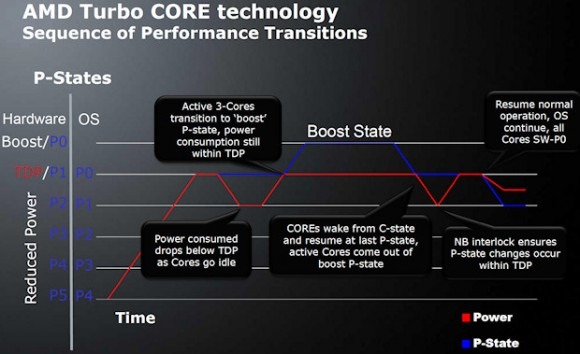 AMD's rumored plans to take on Intel Turbo Boost have been confirmed, with the company quietly acknowledging that their upcoming hexacore processors will support a dynamic clock boost technology called AMD Turbo CORE.  Like with the Intel system, the six-core AMD Phenom II CPUs will be able to overclock up to three heavily-taxed cores by up to 500MHz, while the remaining cores are left idle (saving power and reducing heat output).
It's a simpler system than Intel Turbo Boost, which uses more dynamic clock speed alterations, but AMD reckon the reduced complexity will mean that other CPU management technologies – such as Cool'n'Quiet – will continue to work as expected.  All Phenom II processor models will react in the same way, with a preset Turbo CORE maximum speed.
AMD are planning a Black Edition six-core Thuban processor with a basic core clock speed of "over 3GHz, substantially" and Turbo CORE support, but the technology will also be used in other six-core and four-core processors throughout the Phenom II X6 and X4 range.  Performance is expected to fall a little short of Intel's rival processors, but the AMD chips are tipped to be more competitively priced.