AMD hexacore "Thuban" CPUs getting April 26th launch?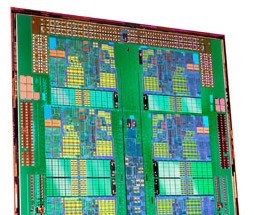 AMD's hexacore "Thuban" processor range, the so-called AMD Phenom II X6, could make a surprise appearance at CeBIT 2010 next week, ahead of a full launch on April 26th.  That's the word from OCWorkbench, whose sources also go on to suggest that AMD are working on a rival system to Intel's Turbo Boost, which will allow the CPU to disable select cores and overclock those remaining active for bursts of speed.
Three initial variants of the AMD hexacore are expected, the Phenom II X6 1035T, Phenom II X6 1055T and Phenom II X6 1075T.  According to earlier rumors they will be backward compatible with AM2+ and AM3 sockets, although there may be a BIOS update required before that will be entirely possible.
[via The Tech Report]