AMD "Elite" A-Series desktop APUs official with up to 4.4GHz quadcore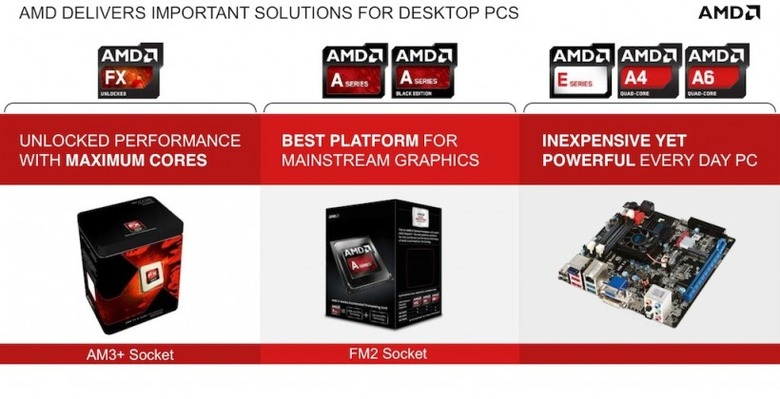 AMD has taken the wraps off of its 2013 A-Series "Elite" APUs for desktop, hoping to show Intel that 4th-gen Haswell won't get all the chip attention this year. Building on AMD's integrated CPU/GPU architecture, the new Elite platform consists of a cluster of new quadcore chips, ranging from the relatively power-frugal A8-6500 through to the top-spec A10-6800K running at up to 4.4GHz.
All of the new Elite chips now feature Radeon HD 8000 Series graphics, for what AMD says is up to a 15-percent improvement in graphics performance over the last-gen processors. They'll also work in an AMD Radeon Dual Graphics setup – where the integrated GPU works alongside, rather than being replaced by, a discrete graphics card – for up to double the overall performance.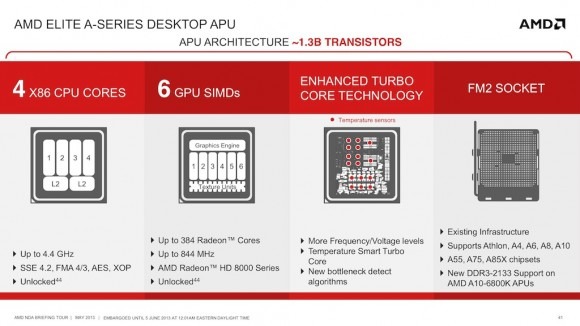 Other improvements include a bump in multithreading performance, which is now up 9-percent over the last-gen chips, and a 13-percent jump in memory performance thanks to the DDR3-2133 supported on the A10-6800K. Meanwhile, AMD says users can expect up to 2.5x the image processing performance than Intel's comparative 3rd-gen Core processor, and up to 3.2x the OpenCL performance.
That OpenCL showing is part of what makes AMD's APUs so interesting. The company is pushing its idea of heterogeneous computing, where the CPU and GPU parts of the combined chip work in tandem, splitting the compute load rather than leaving it to one or the other.
AMD has sensibly made the new Elite desktop chips pin-for-pin compatible with the existing FM2 socket, for easy upgrades, which should mean the processors begin to show up in the wild soon after launch later this year. No word on pricing at this stage, but there's more on the technical side of each APU in the gallery below.