AMD announces Kabini, Kaveri, Richland, and Temash APUs at CES 2013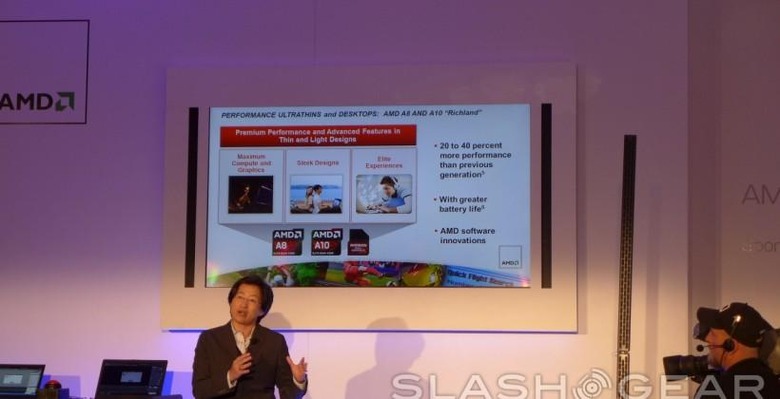 AMD held their press event here at CES 2013, and announced a slew of new accelerated processing units (APUs). And as typical fashion of any chipset maker, they were full of codenames. The company announced Kabini, Kaveri, Richland, and Temash APUs today, the first and the last being AMD's first true SoC APUs.
As far as the other two go, Richland is an APU that's currently shipping to OEMs and it promises to deliver a performance boost of 20 to 40% over the previous generation of the company's A-series chips, and the Kaveri is a new 28nm chip that features heterogeneous system architecture (HSA), and it should ship to customers sometime during the second half of this year.
Richland will also be bundling some new software with the chip, specifically a handful of gesture- and facial-recognition tools. These new chips will be used in various HP, ASUS, and Vizio ultrathin laptops, as well as Vizio's 24-inch AIO desktop. The company announced these earlier in the day.
Senior vice president and general manager Lisa Su made an appearance at AMD's press event and mentioned that the company is dedicated "to bring true surround computing and immersive experiences to our everyday lives." She also mentioned that the new APU's are "the industry's first x86 quad-core SoC," proving the company's leadership in the gaming industry.