Vizio Tablet PC leads the CES 2013 charge with 11.6-inches of Windows 8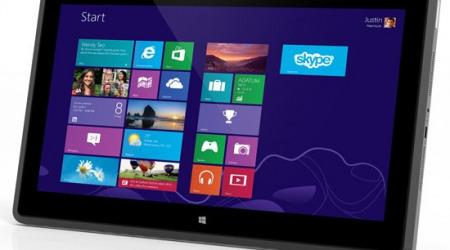 This week the folks at Vizio have unleashed the full barrage of Windows 8 machines you'd expect from a burgeoning new manufacturer of such devices, starting with the Vizio Tablet PC. The thing is though, Vizio isn't new, they're only just entering the PC market now, having released several rather aesthetically pleasing (and rather nice to use) machines over the past year. Here during CES 2013, they've jumped in on the tablet market as well.
The Vizio Tablet PC works with an 11.6-inch display and runs full Windows 8 across a full 1080p resolution. Like the rest of the Vizio lineup across the board, you get a full Microsoft Signature install of Windows 8, this meaning you'll get no "bloatware" as such, only what Microsoft originally intended for the operating system – Skype included. This machine also works with a fabulous dual-core AMD Z60 processor inside clocked at 1GHz – a rarity at this moment in time.
Also inside you'll find 2GB of RAM as well as 64GB of SSD (solid-state storage, of course). This machine has a 2 megapixel camera on the front, micro-HDMI port on the side, and a microUSB port as well for connectivity to your larger machines (if you so choose to do so). This machine will almost certainly be appearing in Vizio's hands-on lineup this week at CES 2013 so we'll have a closer look at what it means to use this beast before the week is through.
Have a peek at a selection of Vizio posts in the timeline below to get an extended taste of what the company has been offering over the past few months, especially our most recent review of one of their all-in-one machines. Very sleek, very well thought out – we've got high hopes for this company, needless to say! Also be sure to take a peek at our CES hub all week for all the hands-on action you can handle!