Amazon's new Fire TV Stick comes with an Alexa-enabled remote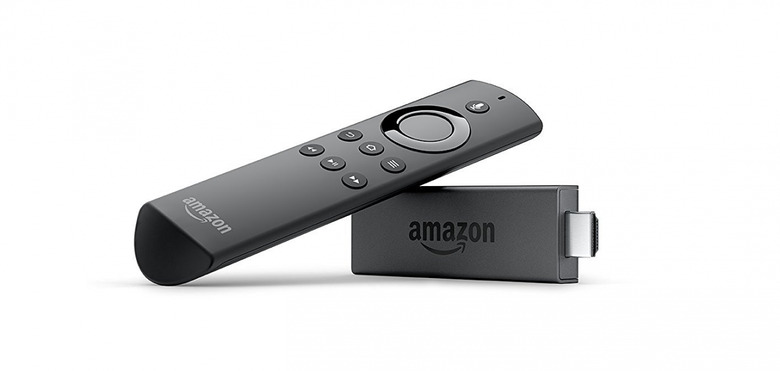 We may receive a commission on purchases made from links.
Amazon seems to be bingeing new device announcements lately. First we got word of the all-new Fire HD 8, then it was the refresh of the Echo Dot, and then the company announced its Kindle for Kids e-reader. The new device train doesn't stop there, apparently, as the company has announced what it's calling the All-New Fire TV Stick.
From a feature standpoint, not a whole lot is changing with this latest iteration of the Fire TV Stick. It's still essentially a delivery device that now sports more than 7,000 channels, apps, and Alexa skills to peruse. This newest version is getting one rather significant upgrade, though, and that comes in the form of an Alexa-enabled remote.
Officially named the Alexa Voice Remote, Fire TV Stick users will now be able to recruit Alexa to help them find the content they're looking for. However, it sounds like Alexa integration won't be limited to just content discovery. Amazon gives plenty of examples of what users can do with their Alexa Voice Remote, ranging from creating a shopping list to ordering a pizza.
Of course, you'll also be able to use Alexa for media playback, telling her to skip ahead or jump back a certain number of seconds of minutes. The new Fire TV Stick ships with a nondescript quad-core processor and support for 802.11ac MIMO Wi-Fi and High Efficiency Video Codec (HEVC), capable of streaming 1080p video through HDMI.
Finally, Amazon also announced a new update for the Fire TV family incoming later this year. This free update promises a "cinematic experience" that's meant to make finding content easier, allowing users to view trailers and content screenshots without the need to switch thought apps. You'll also have the ability to place a customizable apps list on the home screen, which should add a certain degree of ease to accessing your favorites. This update will be arriving on both the Fire TV Stick with Alexa Voice Remote and the latest-generation Fire TV.
The Fire TV Stick with Alexa Voice Remote won't be shipping out until October 20, but those interested in picking one up can pre-order one now for $39.99 from Amazon.
SOURCE: Amazon