Amazon Fire HD 8 Refresh Announced With Extended Battery Life And Alexa Support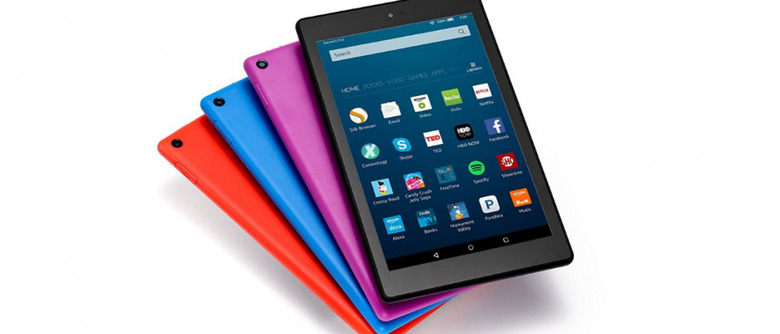 Amazon has announced a new version of its Fire HD 8 tablet, and it sounds like this refresh brings a number of hardware improvements over its predecessor. Taking a page out of Nintendo's book, Amazon has dubbed this the "All-New Fire HD 8," and aside from an improvement on the hardware side of things, this new tablet marks the first time that Alexa capabilities will be present in Amazon's Fire lineup.
First, though, the specifications: Amazon says the all-new Fire HD 8 will come with an 8-inch display clocking in at 1200 x 800 resolution. Amazon is bumping the amount of RAM up with this release, bringing it from 1GB to 1.5GB. It'll also have an unspecified quad core processor running at 1.3GHz and will be running Fire OS 5 when it arrives later this month.
With the 4,750 mAh battery the Fire HD 8 is packing, Amazon is saying users can expect 12 hours of mixed use battery life, but as is usually the case, your mileage will likely vary. Amazon will also be offering the Fire HD 8 in 16GB or 32GB storage configurations, though if those capacities don't cut it for you, you'll be able to expand that by up to 200GB through the use of a microSD card. Finally, Amazon is touting that the Fire HD 8 is nearly twice as durable as the iPad Mini, so this may be good for users who lead a rough-and-tumble lifestyle.
Amazon also took the opportunity to announce that it will be bringing Alexa functionality to its Kindle tablets lineup. Holding the home button while your tablet is connected to WiFi will summon Alexa, who you can then ask to do a multitude of things, from playing songs to launching games. Though Alexa will be available on the Fire, Fire HD 10, all-new Fire HD 8, and last year's HD 8 model, it doesn't sound like the feature will be available at launch, with Amazon saying that Alexa functionality will be added through software updates scheduled to roll out over the coming months.
The all-new Fire HD 8 is available to pre-order now, and it comes in four colors: black, blue, tangerine, and magenta. It'll be arriving on September 21, and the 16GB version will cost $89.99 while the 32GB variety will set you back $119.99.