All-New Echo Dot confirmed, wants to put Alexa in every room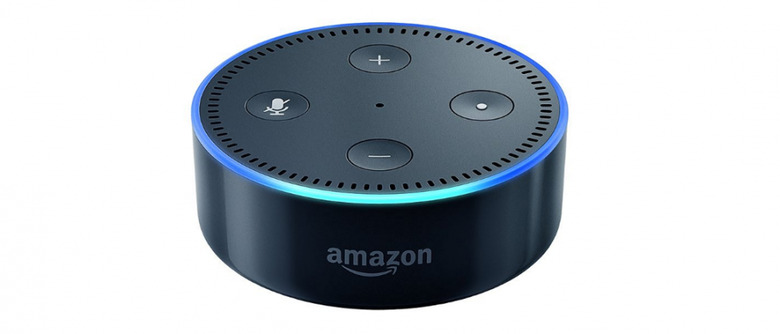 We may receive a commission on purchases made from links.
Late yesterday, Amazon seemed to leak the existence of a second-generation Echo Dot, tweeting out an announcement of the new device before quickly deleting the tweet in question. It didn't take long for the company to officially announce the latest iteration of the Echo Dot, putting it up for pre-order today on its virtual storefront. The All-New Echo Dot – as it's being called – aims to accomplish many of the same things as the first, most notably giving you easy access to Amazon's personal assistant, Alexa.
Amazon invites potential buyers to put Alexa in every room of their house with the All-New Echo Dot, and is pricing it at $50 to encourage the purchase of multiple Dots for that purpose. To help realize that ideal, Amazon is rolling out a feature called Echo Spatial Perception, which comes into play when you're issuing commands within the hearing range of multiple Echo devices.
Using the seven microphones the All-New Echo Dot and standard Echo are outfitted with, Echo Spatial Perception determines which Echo device should respond to your commands and requests. It's meant to eliminate the problem of having multiple Echos answer you at once, and not only will it be available in the All-New Echo Dot from the get-go, but it'll be rolling out to all other Echo devices as an update in the coming weeks.
You'll can also hook the All-New Echo Dot up to a set of speakers through Bluetooth or a standard 3.5mm connection to control your music through Alexa. Once connected, you'll be able to ask Alexa to play your favorite songs or playlists created through a number of different services, whether that's Spotify, Amazon Music, Pandora, or Prime Music. If, by chance, you don't have a Bluetooth speaker to use with your Echo Dot, Amazon has you covered there too, as it's offering discounts on bundles that feature select wireless Bose speakers and the All-New Echo Dot.
Obviously, the All-New Echo Dot still offers the smart home capabilities of the devices that came before it, putting Alexa in the center of a smart home set up. Alexa is already compatible with a fairly wide selection of smart home devices, and that number is growing by the day, thanks to the Alexa developers kit that Amazon released last year. With that kit, developers can make what's called an Alexa "skill," allowing almost any individual or company to add to Alexa's existing compatibility. Amazon recently announced that Alexa now has over 3,000 Skills on offer, with 2,000 of those only being added since June.
The All-New Echo Dot will be launching on October 20, and is available in two different colors: black and white. The device is available for pre-order now, and those who like Amazon's vision of having an Echo device in every room can order multi-packs of the Echo Dot, getting one for free if you order six and getting two for free if you order twelve.
SOURCE: Amazon