Amazon's Dash Button is free-after-push to all on Prime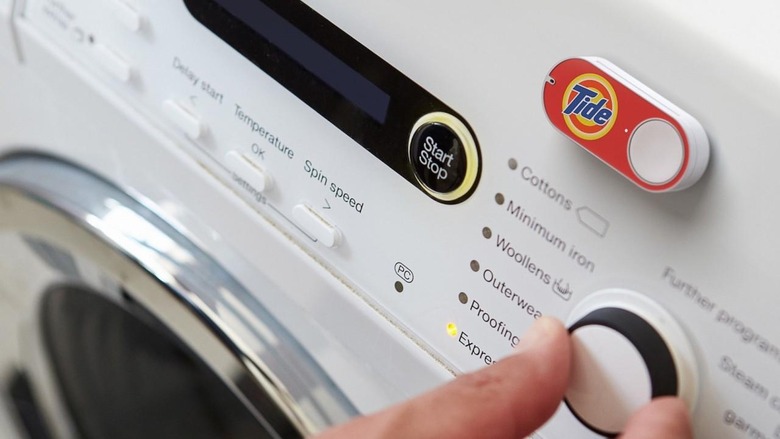 We may receive a commission on purchases made from links.
Amazon's Dash Button, offering one-touch shopping for specific household items, is opening up with free buttons for any Prime members who use the service. Launched back in March though only for select Amazon shoppers, as of today the Dash Buttons are now available for any Prime subscriber in the US who wants one.
They're still priced at $4.99 apiece, but Amazon has an offer there, too. As soon as you make your first purchase through the button, it will refund the $4.99 automatically.
Meanwhile there are new products being added in too, with eleven new brands joining existing ones like Tide. In total, there are now 29 different brands each with their own button.
New to the list are Ice Breakers Mints, Orbit Gum, GREENIES Dental Chews, and GREENIES Pill Pockets Treats on the food side, while household goods include Hefty Trash and Storage Bags, Mrs. Meyer's Clean Day, and Ziploc Brand.
You can also get a Dash Button for Depend, Finish Dishwashing Detergent, Digestive Advantage Probiotic Supplements, and Dixie tableware products.
Finally, when you're bulking and don't have time to reach for your phone, there's a button for Optimum Nutrition Gold Standard 100% Whey Protein.
Even if there's not a brand or product you might want regularly, it may still be worth picking one of the wireless buttons up. Hackers have already figured out how to reprogram them to do a variety of other tasks.
UPDATE: We had a question from a reader on if they'd already purchased a Dash Button and have already been using it – if that were true, would they still get their $4.99 back the next time they press it, too? The answer is yes, confirmed by Amazon.
SOURCE Amazon