For the third year in a row, Amazon's Prime Day sale managed to smash sales records for the company. Though Prime Day sales can certainly feel a little underwhelming to some folks, the idea of a mid-summer sale to rival Black Friday seems to be working out well for Amazon. According to one vendor, however, Amazon may not be entirely genuine with its customers when it comes to some of the discounts it's presenting to them.
That vendor is Jason Jacobs, the founder of Remodeez, a company that sells a collection of deodorizers that use activated charcoal. Jacobs tells Fox Business that he's been selling his product on Amazon LaunchPad with a suggested retail price of $9.99. The MSRP has remained the same since Remodeez first started selling on Amazon back in 2015.
During Prime Day, however, Jacobs says that Amazon raised the price to $15.42, only to put it back "on sale" for $9.99, leading customers to believe that they were getting a discount when what they were paying had been the suggested retail price all along. When Prime Day was over, the regular price of $9.99 was reinstated. As part of Jacobs' agreement with Amazon, he says that the company is allowed to set pricing even though Remodeez provides it with a suggested price.
This Prime Day incident made Jacobs curious, so he looked at the pricing changes for Remodeez over the previous year. He found that when Remodeez deodorizers were mentioned in blog posts from popular sites – Buzzfeed, specifically – Amazon would raise the price on the product, bringing it up to $15. Even though it's only $5 extra, that still represents a 50% increase over the suggested retail price, and that's nothing to shrug off.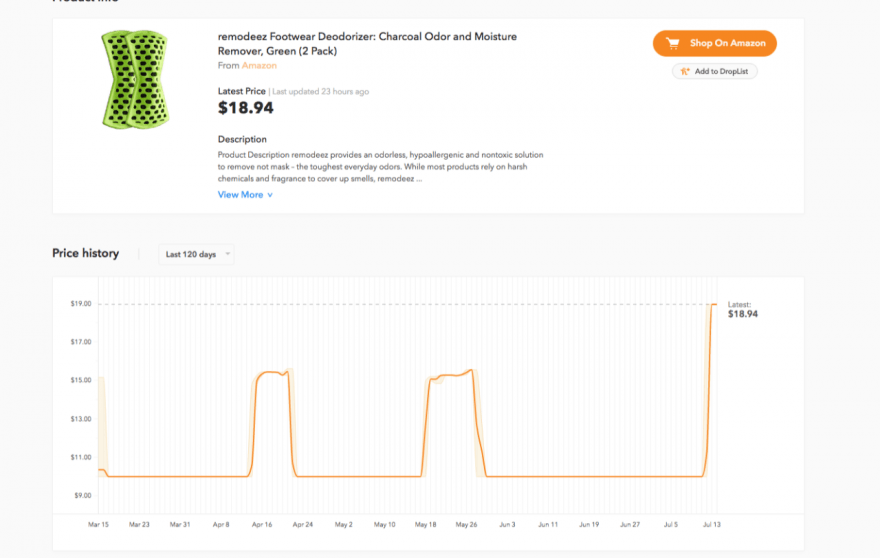 Amazon, for its part, told Fox Business that it doesn't use "surge pricing" as a tactic and, in fact, tries to do the exact opposite. "Amazon does not engage in surge pricing. We always seek to meet or beat the lowest price," a spokesperson for the company said. "We obsess over the things we believe customers will always care about–low prices, vast selection, and fast delivery–and work hard to provide all three, all the time."
While this is only one vendor coming forward, Jacobs' claims don't exactly paint a pretty picture for shoppers who think they're landing good deals by shopping through Amazon. The timing of Jacobs' interview with Fox Business isn't that great for Amazon either, as a July 10 Consumer Watchdog report claims that Amazon has been misleading with its stated "previous prices," indicating that an item has been discounted heavily when, in reality, it hasn't been.
Amazon, for its part, takes issue with the Consumer Watchdog report as well, telling Fox Business that the report's methodology is "deeply flawed" and that the resulting conclusions are "flat out wrong." Whatever's happening behind the scenes, Jacobs and Consumer Watchdog clearly think it's something fishy. It'll be interesting to see if more vendors come forward with similar claims now that Jacobs has put his story out there, so stay tuned.