Amazon Prime Air secretly recruited an all-star computer vision team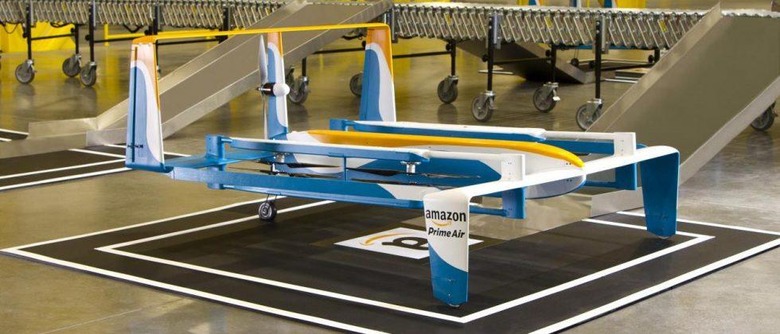 Amazon has quietly recruited a team of computer vision all-stars to work on giving its Prime Air delivery drones the skills to navigate the skies – and land – safely. The team, which includes former Microsoft engineers, is based in Graz, Austria, and will be responsible for ensuring that the retail behemoth's rapid delivery system doesn't crash and burn.
That's about more than just spotting a flat space in your back yard and dropping from the sky with your last-minute printer toner delivery, some of the engineers on the newly-formed team explained to The Verge. In fact, it's a complex system involving not only computer vision but semantic parsing to figure out the back-story behind what the drones are seeing.
NOW READ: A closer look at Amazon's Prime Air drones
Amazon's Prime Air proposal seemed like an April Fools joke when CEO Jeff Bezos first announced it, a system whereby time-sensitive deliveries could be shuttled from the company's warehouses to customers – at least, those within fifteen miles – in under thirty minutes.
In fact, it's a possibility the retailer is taking very seriously. The new computer vision team – said to include some of the most notable experts in Europe among its dozen members – is the core of what's to be a new technology development center in Austria, initially tasked with giving autonomous drones the smarts they need to survive in the wild.
Meanwhile Amazon has been pushing government regulators to make the testing environment more open-minded
Unlike remotely-controlled UAVs which are piloted, potentially at a distance, but always with a human at the controls, the Prime Air drones will be expected to handle safe navigation themselves. That includes identifying other objects in flight, whether a fellow drone, a plane or helicopter, or birds, but also figuring out what the best place to set down might be.
"A swimming pool may be a perfectly flat landing spot from a geometric point of view," Konrad Karner explains, "but not exactly where we want our drones delivering packages!"
As a result, there'll be drone-to-drone communication as well as the sort of sonar, laser range-finder, and other sensors that we've seen used extensively in autonomous car projects, but also a solid amount of onboard, standalone intelligence. After all, as the team points out, each Prime Air craft needs to be able to react near-instantaneously to any perils or unexpected obstacles it encounters, in addition to spotting possible hazards entering an identified landing space.
Amazon is yet to give a launch date for Prime Air deliveries to kick off, and a commercial service going operational is heavily dependent on regulatory approval.
MORE The Verge