Amazon offering students $50 off a Kindle Fire HD 8.9 all month long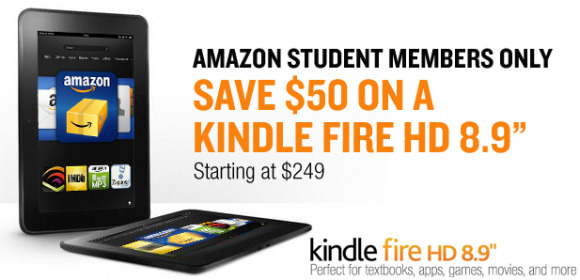 Amazon's Kindle Fire HD was the company's leading product throughout the holiday shopping season, and for good reason. The 8.9-inch version went on sale earlier last month, but if you happened to blink, the deal was gone. However, Amazon is offering the Kindle Fire HD 8.9 to students at $50 off all month long.
Amazon Student Members with an active Prime account (free six-month or $39/year plan) are only eligible for the deal. However, the company is letting students who aren't Prime members sign up today to take advantage of the deal. In order to become an Amazon Student member, simply sign up using your .edu email address.
The offer is good towards either the Kindle Fire HD 8.9 WiFi-only model or the 4G LTE variant. The $50 discount means you'll spend as little as $249 on a new 8.9-inch Kindle Fire HD, which is the same price as the 7-inch 32GB model of the Fire HD. We have to say that's a pretty good-looking deal for a great budget tablet.
The Kindle Fire HD 8.9 comes in four different flavors in all. The WiFi-only model comes in 16GB and 32GB sizes, while the 4G LTE version comes in either 32GB or 64GB flavors, all priced at $249, $319, $449, and $549, respectively, after applying the $50 discount. Read our full review of the device to learn more.