Amazon Kindle Oasis Review (2019): An ereader you'll warm to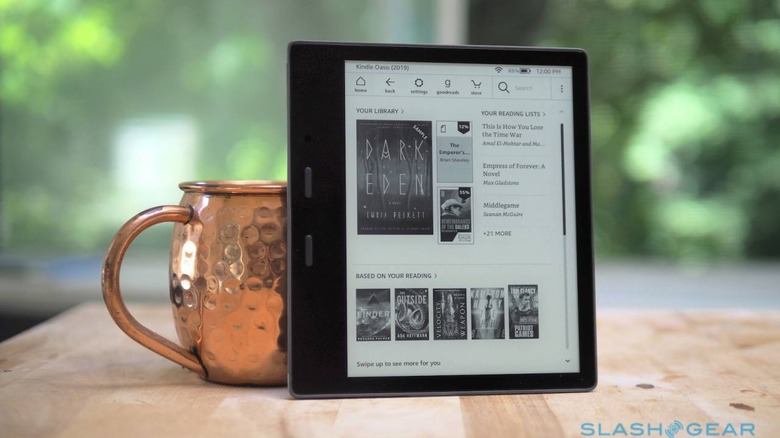 Two years ago it felt like the Kindle Oasis answered most of the demands of avid readers, but Amazon's 2019 refresh of its most expensive ereader thinks it has something upgraders will warm to. Though it might not look different at first glance, the new Kindle Oasis (2019) promises to be easier on the eyes in return for the $250+ hit on your wallet, with a trick display that can adjust not only brightness but screen warmth, too.
A familiar flagship
What made the last-generation Oasis so successful is still here. It's still impressively thin, with a stepped casing design that's a grippable 0.33 inches where your hand naturally holds it, but tapers to 0.13 inches behind the screen. It helps with the balance, biasing the 188 gram weight to your grip.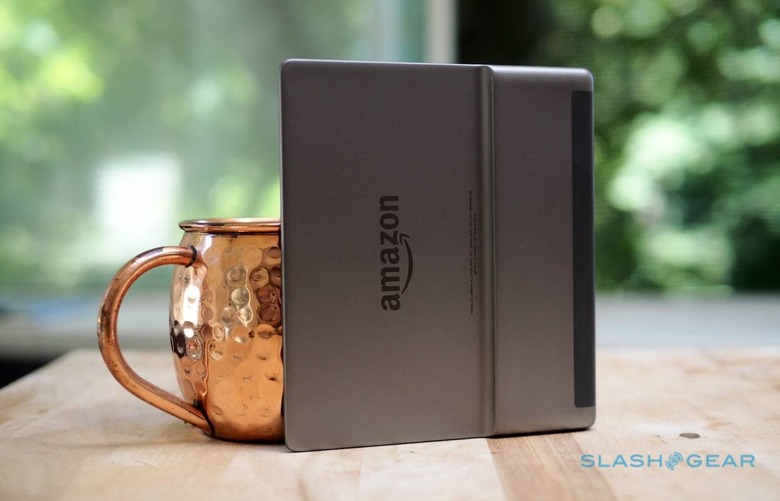 Physical controls are minimal – two page turn buttons and a power button – with the 7-inch e-ink touchscreen handling most features. The page buttons feel a little clickier than on the old Oasis, not louder but with a more noticeable press, which I like. There's Bluetooth inside to connect to wireless headphones or speakers and listen to Audible audiobooks.
As before, there's IPX8 water resistance. That's enough for an hour of submersion in up to two meters of fresh water. Amazon is clear that it doesn't mean you can do the same in, say, soapy bathwater or in seawater, but it does allow you to rinse the new Oasis off should it take a dunk in one of those.
A screen you'll warm to
Amazon has changed the Kindle Oasis screen in two ways. For a start it's a faster e-ink panel, still the same 300 ppi resolution as before, and still 7-inches, but speedier to refresh. The difference is small, more about a sense of overall snappiness than anything else, and it's more noticeable outside of the usual page turns between text in an ebook. Rather, it's about the transitions between the home screen, the store, and opening settings pages and pop-ups like Amazon X-Ray. The actual processor and memory are the same as the 2017 model.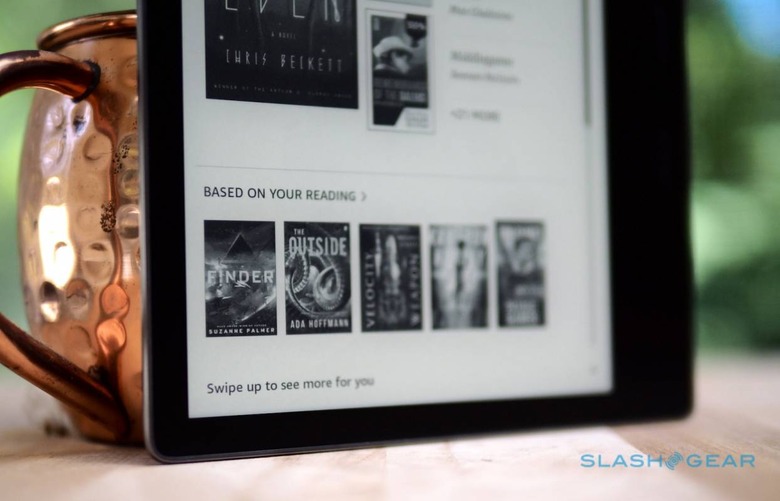 The other change is that the front light is now color adjustable. As before, it can automatically – or manually – switch between 24 different levels of illumination, its 25 LEDs gently glowing to make sure you can read your book without glare regardless of the ambient lighting.
For 2019, though, you can also control the warmth of that light. At one extreme it's like the 2017 Oasis, a cool, almost blue-tinged illumination. Crank it all the way over to the other extreme, however, and the light takes on a honeyed tone, verging on sepia. Amazon says it's easier on the eyes, particularly in the evening, because it can better match the color of the natural light and be less harsh.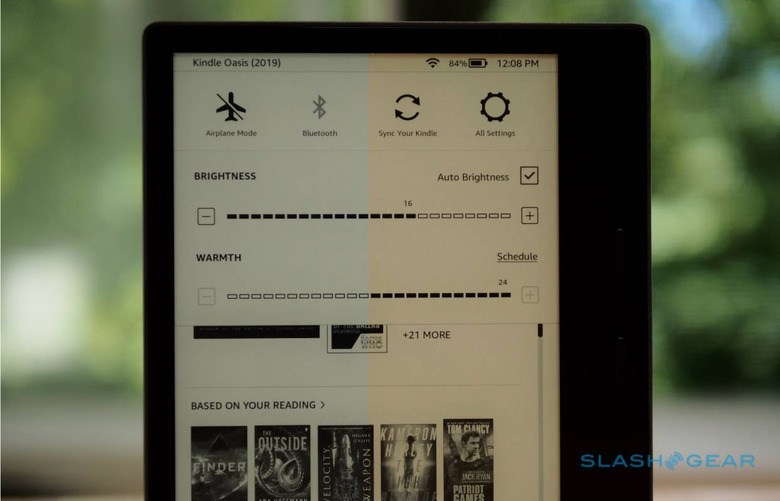 You can control the warmth manually, by adjusting the level yourself or setting a schedule for when it should shift warmer and when it should go cooler. Alternatively, there's an automatic setting. As long as you connect to WiFi, the Kindle Oasis knows when sunrise and sunset is, and finesses the screen warmth accordingly.
Is it worth it? I typically read on a 2017 Oasis, and I do find that I typically turn the lighting down when I'm feeling tired because the cooler light can be a little harsh. With the warmth ramped up, however, I could leave it at a higher brightness level without feeling that discomfort. While the new Oasis can control its illumination levels depending on ambient conditions, it doesn't control warmth according to the lighting in the room, mind. Depending on where you are and what the other lighting might be, you may find you need to overrule it for the most readable results.
Same design, same headaches
Unfortunately, some of the old Oasis' frustrations have been carried over to this 2019 Kindle, too. There's still a microUSB port for charging, rather than USB-C, though you shouldn't have to plug it in too often. Amazon says that – with wireless turned off and the screen lighting at roughly half – you can read for around 21 hours solid. That's about half an hour a day for six weeks. Of course, leave the wireless on – as you might want to for Whispersync, to have new content automatically download, or to enable the automatic sunset/sunrise screen warmth adjustment – and those numbers will go down.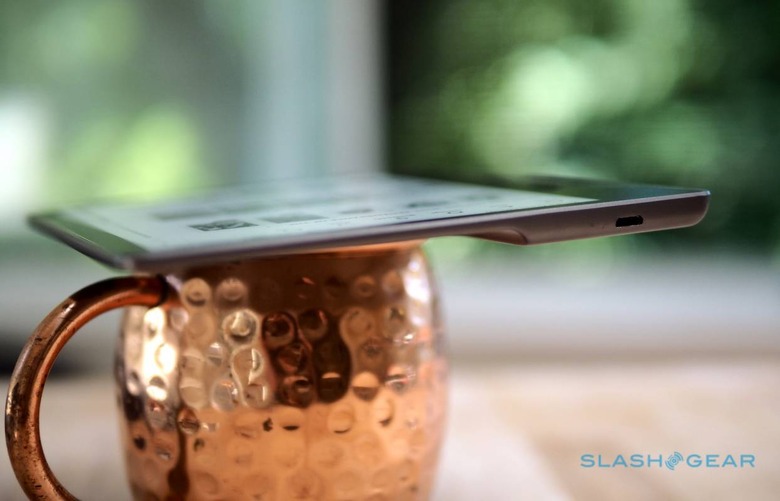 Then there's cases. While the 2019 Oasis may be basically identical in size and shape to its 2017 predecessor, it's not actually compatible with Amazon's original magnetic covers for the last-gen model. Update: Amazon says that, in an attempt to save weight, it opted for a different case design which clips onto the 2019 model. Amazon actually changed to clip-cases in 2018, so those should work with this new version. However, it doesn't have the magnets for the original Oasis 2017 cases to cling to; you won't be able to reuse any of the original leather or fabric covers that you might have bought for the second-generation version.
Amazon Kindle Oasis 2019 Verdict
That's galling for early adopters, as it's not like the new Oasis is any cheaper either. Cheapest is a $249.99 version with 8GB and WiFi, along with Amazon's lock screen Special Offers; a 32GB model of the same will be $299.99. $20 more gets rid of the Special Offers. As for cellular, the Kindle Oasis WiFi + LTE is $319.99 for the 8GB model and $349.99 for the 32GB.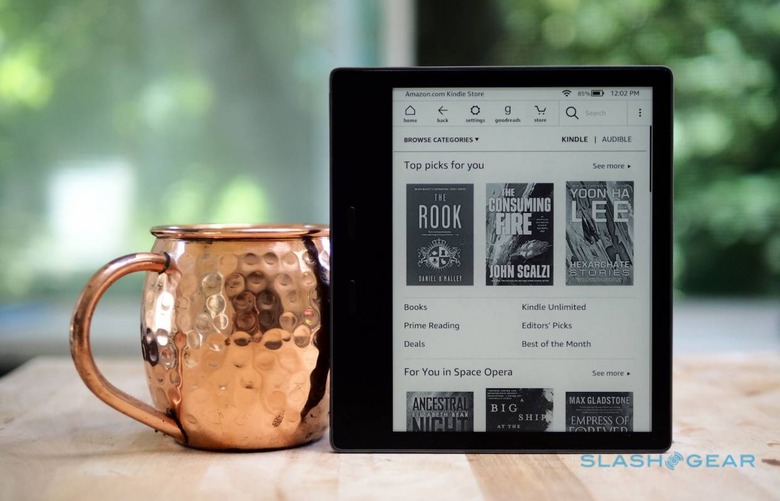 In short this isn't a cheap way to consume ebooks or audiobooks, especially when Amazon will happily sell you a basic Kindle for under a hundred bucks. Despite that, avid readers will find plenty here to like. The bigger, swifter screen is easier on the eyes, and the new Kindle Oasis is just as easy to hold, carry, and use as before. Eventually, the display warmth tech will almost certainly trickle down to Amazon's cheaper models, but for now if you want the best Kindle around, the Kindle Oasis charges a premium for its eye-friendly talents.