Amazon's $90 Kindle is out to eat the Kindle Paperwhite's lunch. Adding front lighting for the first time on the entry-level ereader, the new 10th-generation Kindle 2019 snags one of the most common reasons buyers had for opting for the more expensive model. Read on for our full review.
Amazon's industrial design doesn't stray too far from what we've seen before. The new Kindle is a rectangle of matte plastic – in black or white – measuring 160 x 113 x 8.7 mm. At 174 grams it's easy to hold in one hand for extended reading sessions.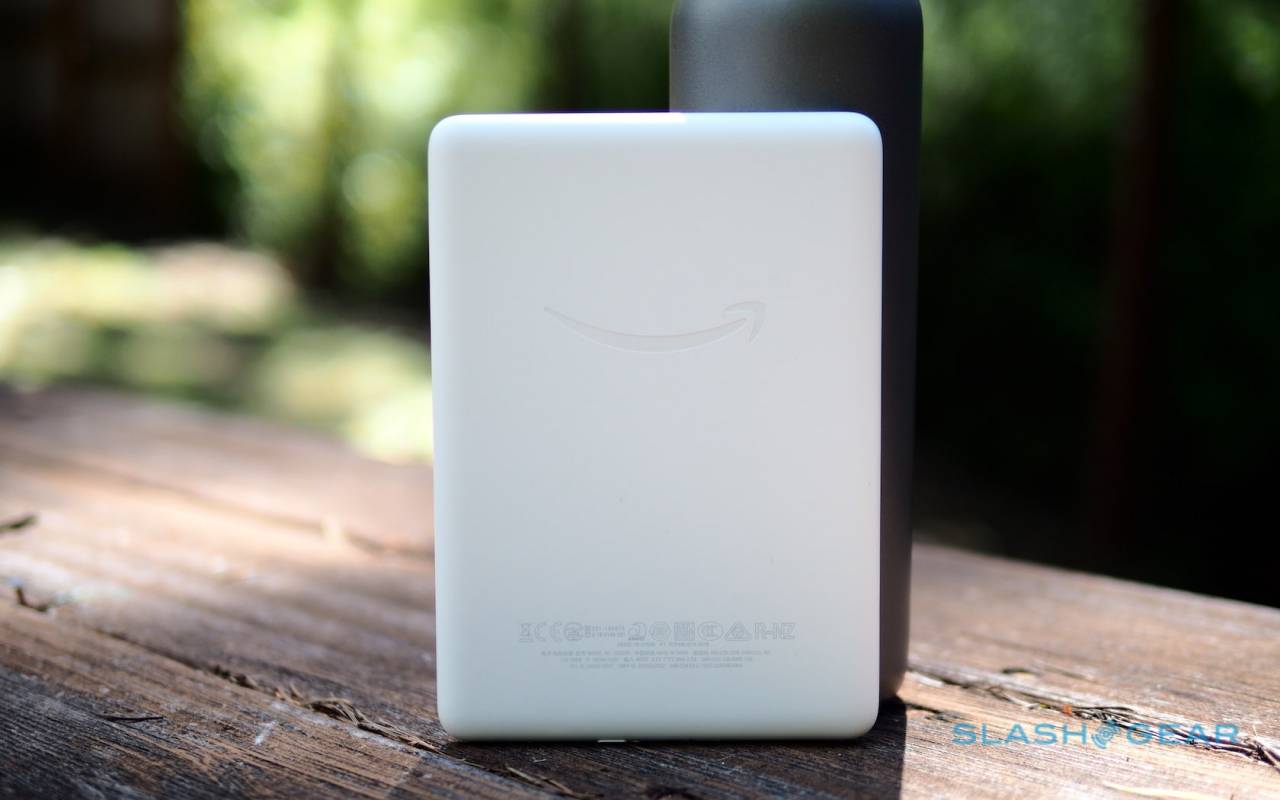 There's a power button and a charging port on the bottom edge, but other than that you don't get any physical controls. The E Ink display is a capacitive touchscreen, and used for navigation. While not as snappy as, say, the flagship Kindle Oasis, moving through the various menus and store pages isn't tediously slow. It's only a matter of a few seconds from hitting the power button and getting back to your book.
Ten bucks and four LEDs more
The old Kindle (aka the Kindle 8) that this new model replaces started at $79.99. This Kindle 2019 (aka the Kindle 10th Generation, or the Kindle 9) comes in at $89.99, ten bucks more.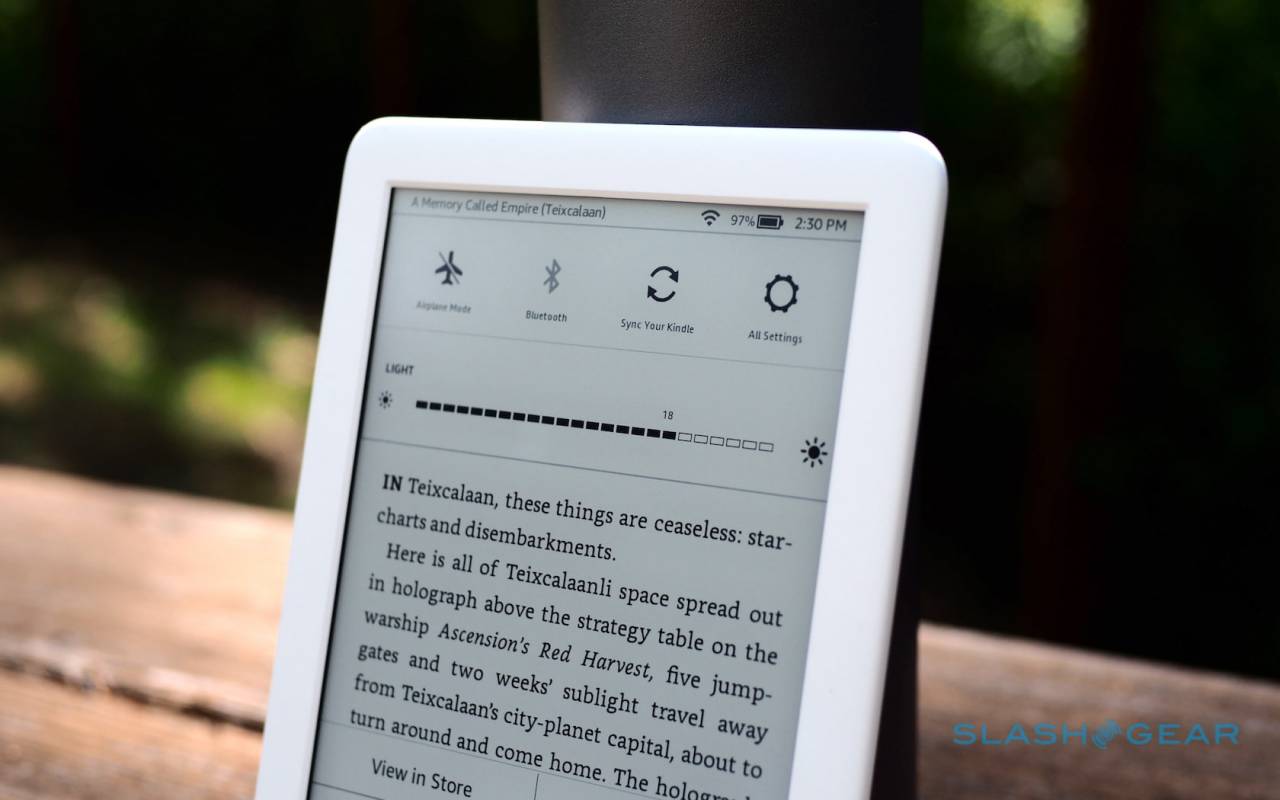 That $10 difference primarily goes on screen lighting. For the first time on the basic Kindle, there's now an integrated front light so that you can read in the dark. There's manual adjustment across 24 levels.
Amazon uses a four LED system to illuminate the 6-inch E Ink display. It runs at the same 167 ppi resolution as the previous generation, but promises better contrast. Text looks good; it's only when you get to the smallest font sizes that the resolution starts to leave some characters looking a little fuzzy around the edges.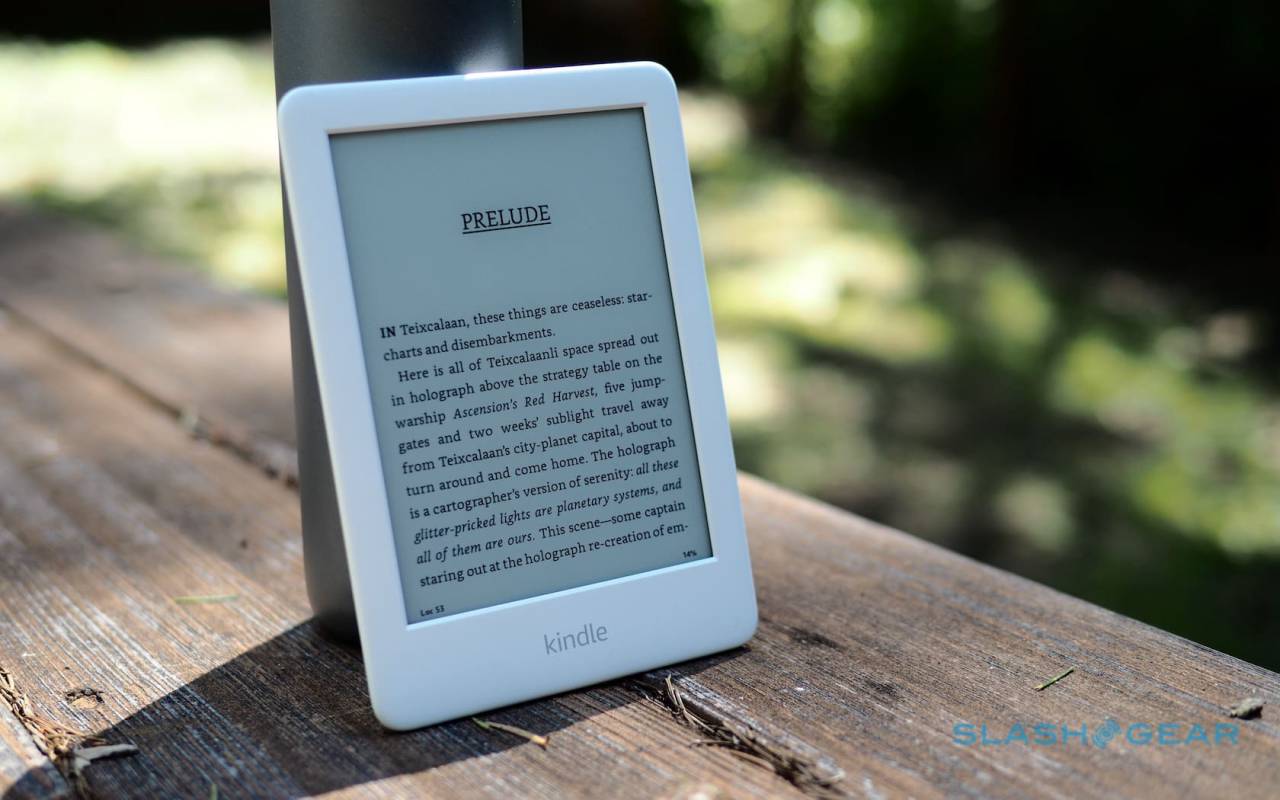 Even with just four LEDs, the front light is impressively consistent. There's no obvious hotspot or areas of patchy brightness.
As usual, the cheapest version comes with "Special Offers": basically Amazon's way of saying it'll show adverts on the standby screen. If you don't want the commercials, there's a Kindle without Special Offers option, costing a $20 premium. At this price point, I'm not sure it's worth spending the extra, given you don't get any more memory or any other advantages. If you discover you really can't live with them, Amazon offers a post-purchase upgrade to remove the Special Offers for a one-time fee.
Battery life that lasts
Amazon's boast with its ereaders has always been that they deliver ridiculously long battery life. This new Kindle 2019 is no different. The big claim is up to four weeks of use, though as ever there's some small print involved.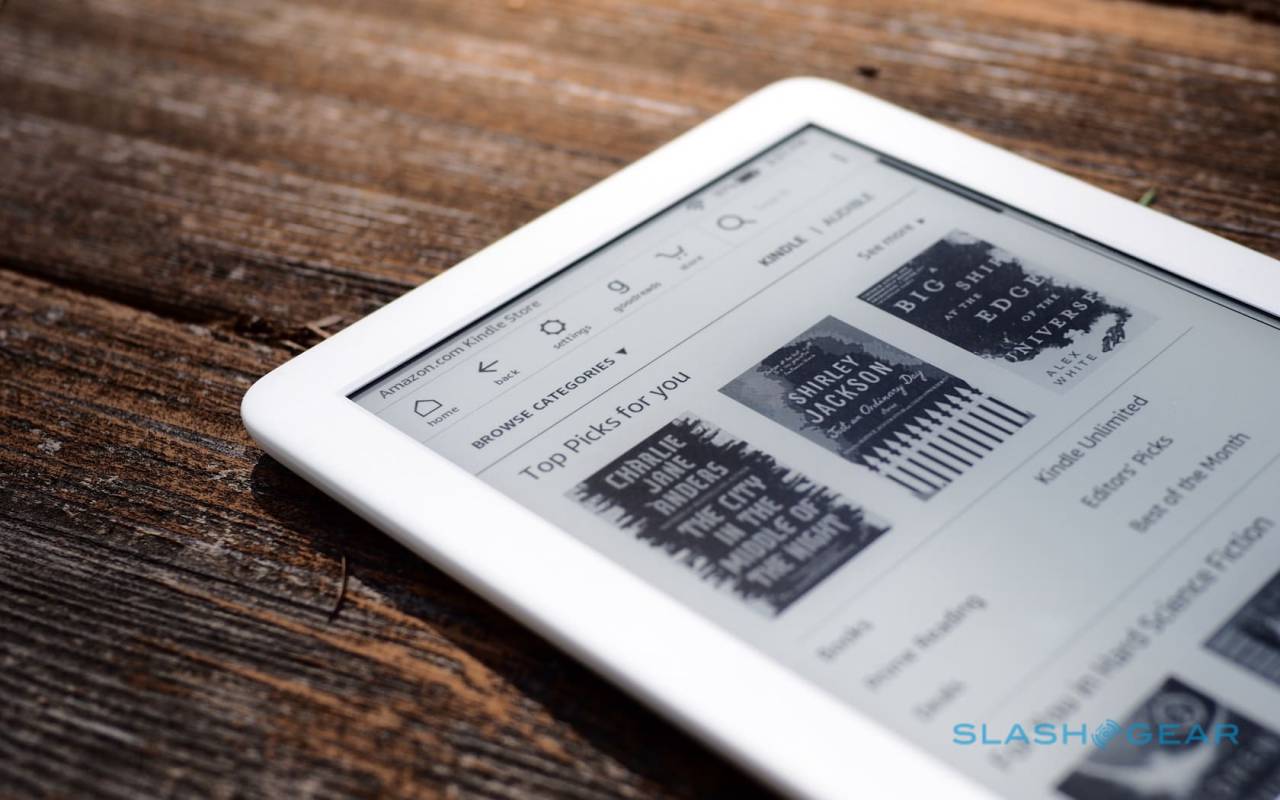 That four weeks assumes that the WiFi is off, and that the front light is set to 13 – roughly half brightness. It also assumes 30 minutes of reading per day. Honestly, for most people, and with a mixture of browsing the Kindle store over WiFi and regular reading, I suspect you'll get through a couple of weeks before you need to find the charging cable.
That's assuming you don't make use of the Bluetooth audio support, mind. The new Kindle has VoiceView screen reader, with text-to-speech and spoken navigation instructions, as well as support for Audible audiobooks. There's no onboard speaker nor, indeed, a 3.5mm headphone jack. Instead you need to pair to a set of Bluetooth headphones or a separate Bluetooth speaker.
Kindle 2019 vs Kindle Paperwhite
With the new Kindle gaining screen illumination, you might be wondering where that leaves the more expensive Kindle Paperwhite. That was refreshed last year, and is priced from $129.99. Both have a front light, Bluetooth support for Audible and text-to-speech, and the same Kindle software for things like synchronization across ereaders and ereader apps, along with an integrated dictionary and Wikipedia.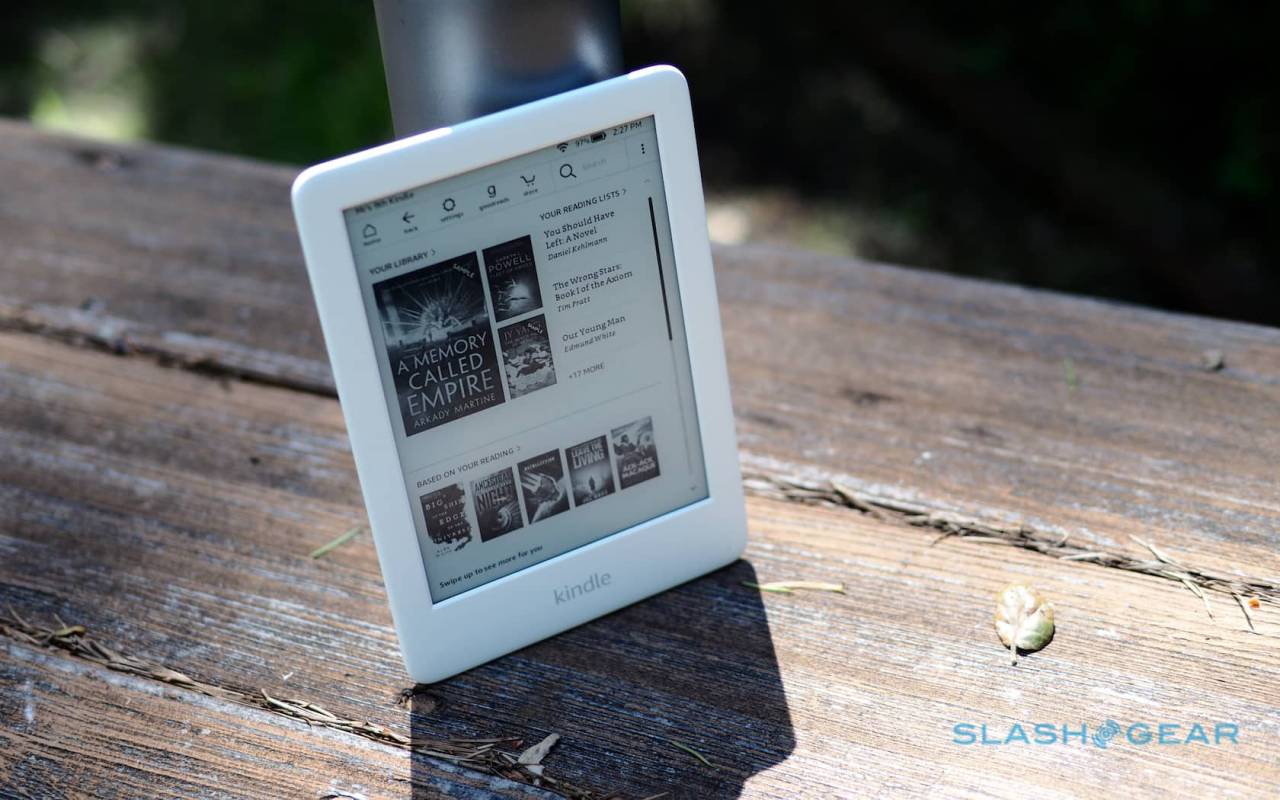 There are still a few good reasons why you might want to dig a little deeper for the Paperwhite, mind. Biggest is that it's waterproof: no longer do you have to worry about splashes when. reading on the beach, by the pool, or in the bath. It has a higher-resolution, 300 ppi display, too, which is flush-fitting unlike the slightly recessed touchscreen of the new Kindle.
Inside, the Paperwhite gets at least twice the storage of the Kindle 2019. The latter has 4GB; sufficient, true, for thousands of ebooks, but which starts to look a little tight if you're an audiobook fan. In contrast the Kindle Paperwhite offers 8GB and 32GB options.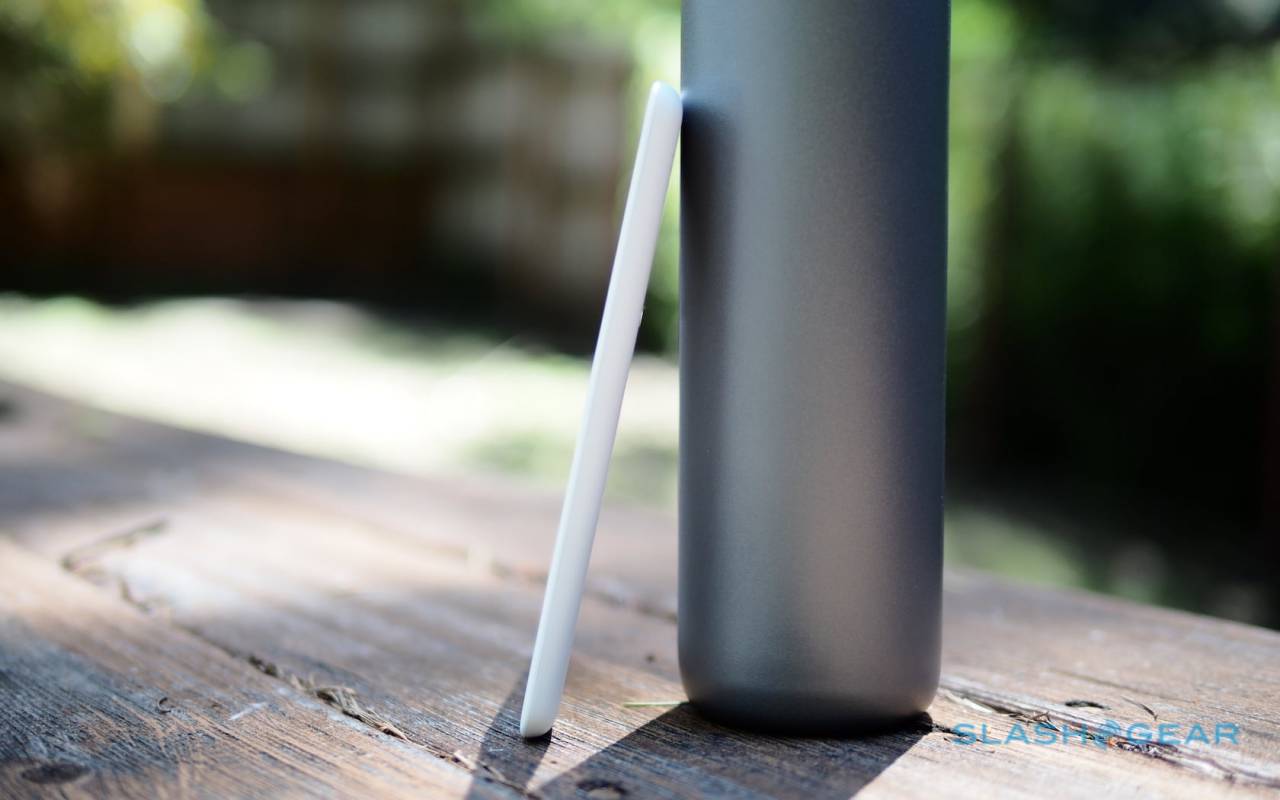 Finally there's connectivity. The $90 Kindle only offers WiFi to get onto Amazon's store. In contrast, the Kindle Paperwhite has a 3G option. It gets expensive if you want it, mind: $249.99 in fact, though that also includes the 32GB of storage and removes the Special Offers.
Personally, as a fairly eager reader, the higher resolution screen of the Kindle Paperwhite would make it worth the extra money. If you're a more casual reader, though, the improvements to the regular Kindle are compelling.
The same old problems
At this point, Amazon's refusal to adopt USB-C is just plain frustrating. Having to make sure you have a microUSB cable to hand in order to recharge the new Kindle is a needless hassle. After all, I can charge my laptop, my Android phone, my headphones, and most of the other gadgets in my bag with a single charger these days.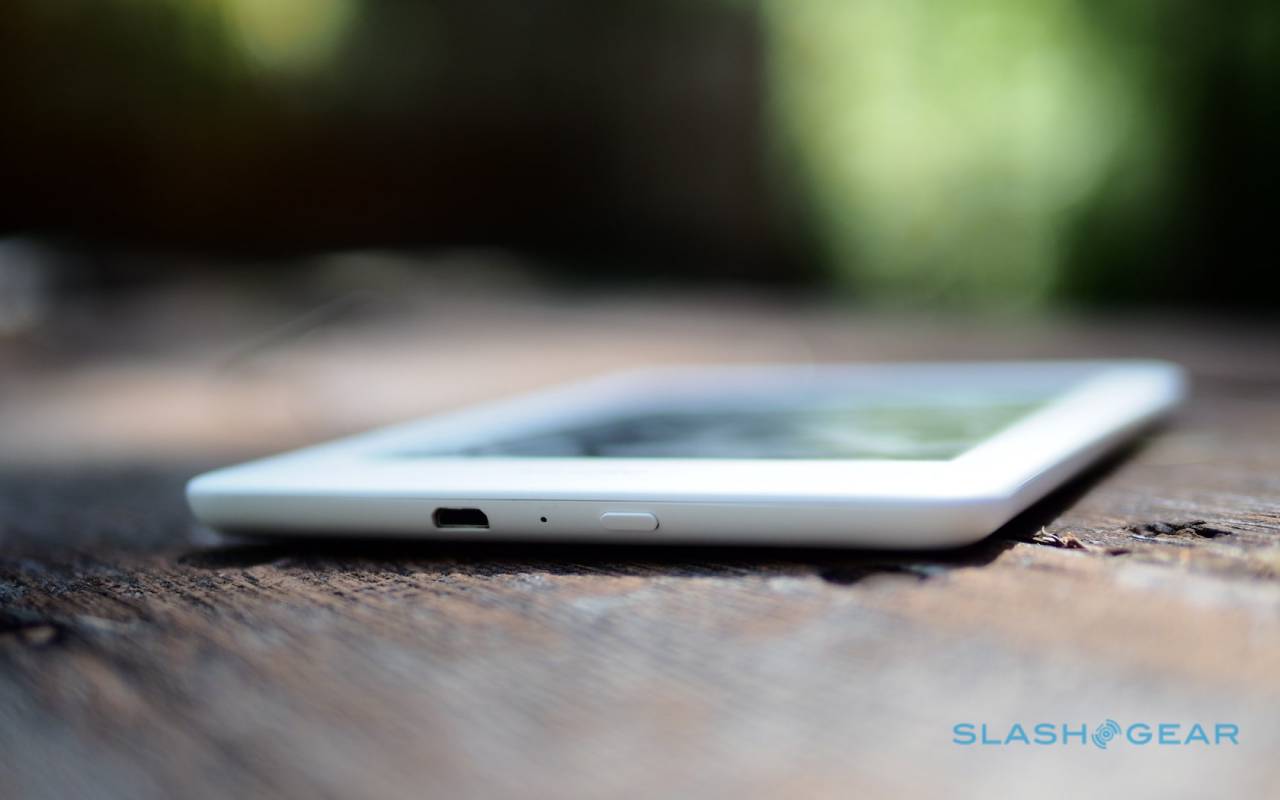 The other complaint is the absence of physical page-turn buttons. That, I suspect, is a matter of personal preference. I really like having an actual button to flip through the pages when I'm reading on the Kindle Oasis. The new Kindle 2019, though, forces you to use the touchscreen. Dealbreaker? No, probably not, but certainly something to bear in mind.
Kindle 2019 Verdict
At this point in the ereader game, Amazon is effectively the only game in town worth considering for mainstream readers. Thankfully, rather than take advantage of that privileged position, Kindle devices have stayed competitively priced. Amazon's impact on the book retail industry and publishing in general is an argument for another day.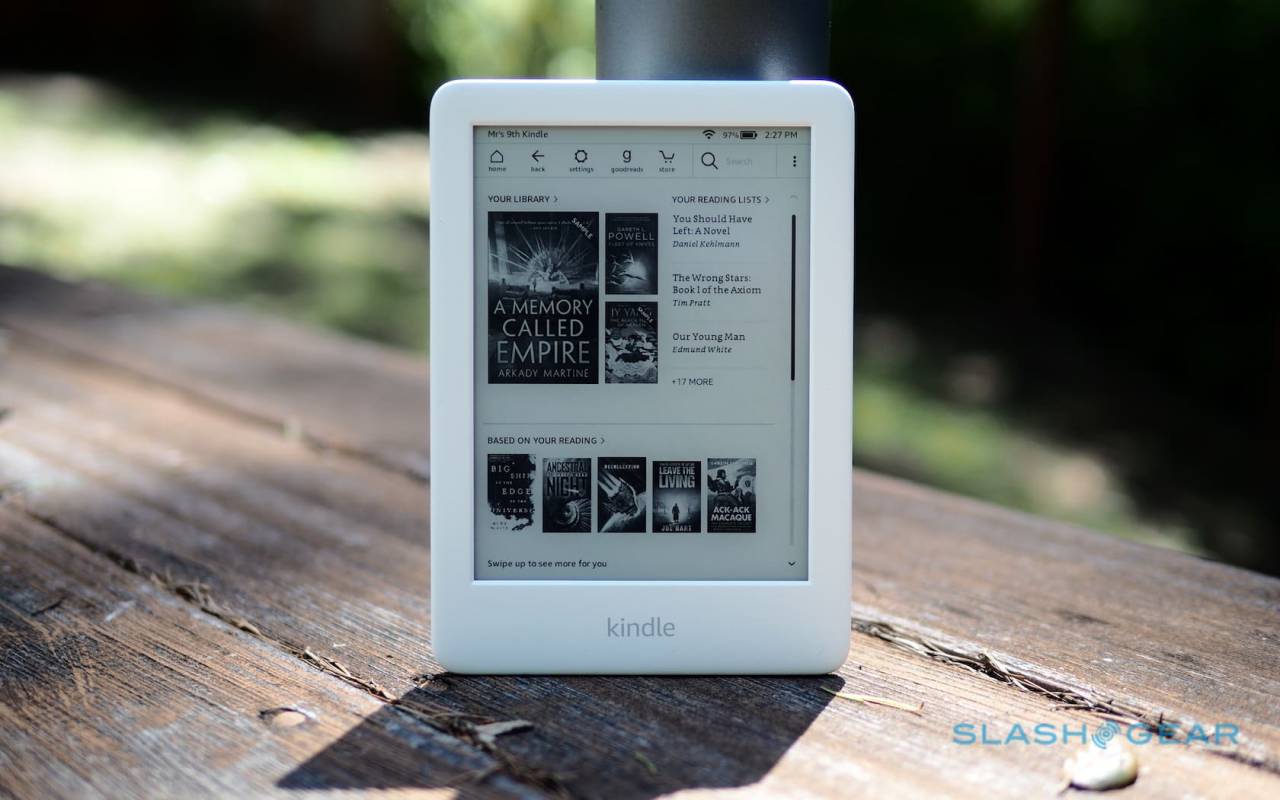 The biggest praise I can give this new Kindle is that, whereas before I'd have said opting for the Kindle Paperwhite was a no-brainer for most readers, that's no longer the case. The addition of screen lighting makes the Kindle 2019 much more compelling.
Yes, you miss out on waterproofing, and the higher-resolution screen. They're nice-to-have features though, rather than, well, something that makes the difference between being able to read in the dark or not. There's still a place for Amazon's more expensive models, but this $90 Kindle gives the entry-level a new lease of life.
Disclosure: SlashGear uses affiliate links, If you click on a link in this article and buy something we'll get a small cut of the sale.