Amazon Kindle DX images leak: 9.7-inch E Ink screen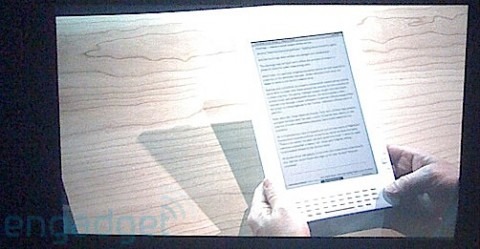 Is this the new Amazon Kindle DX?  According to one source, you're looking at Amazon's new, larger-screen ebook reader, complete with a 9.7-inch E Ink display (versus the Kindle 2's 6-inch panel) and QWERTY keyboard squeezed down to the very bottom.  As we suggested might be the case yesterday, it looks like textbooks, not newspapers, are the Kindle DX's target: at least one university has claimed to be taking part in a trial where students will be provided with the new device and preloaded textbooks.
According to Lev Gonick, CIO for Case Western Reserve University, his institution – plus Pace, Princeton, Reed, Arizona State and Darden School at the University of Virginia – will be giving out Amazon Kindle DX units to select students.  Chemistry, computer science and a freshman seminar textbooks will be preloaded; no word on how long the trial will last, or whether the lucky testers get to keep their DX at the end of it.
As for the device itself, it's believed to have an integrated PDF reader and "the ability to add annotations in addition to notes and highlights"; we're assuming this latter part will involve tapping in text notes, perhaps that show up as footnotes, rather than any sort of direct touchscreen notation.  Meanwhile, a "more functional web browser" is also tipped, and the usual wireless Whispernet connection is onboard.  No word on price as yet, but the New York Times is said to be dropping its monthly subscription to $9.95 (from $13.99).  More details at tomorrow's press conference.