Amazon Kindle DX Video hands-on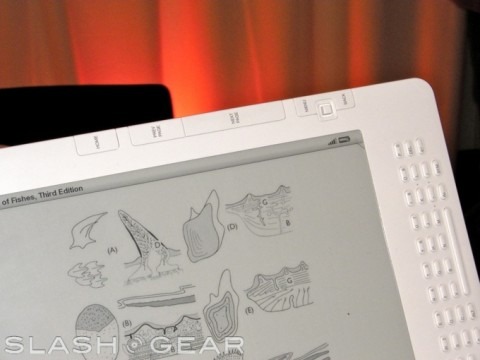 After the official announcement we had the chance to go hands-on with the new Amazon Kindle DX, and despite the overall family resemblance it feels a very different device to the Kindle 2.  Where that e-reader prioritizes the hand-feel and portability of a paperback, the Kindle DX feels decidedly more work-oriented.  The bigger screen – which refreshes a little slower than that of the Kindle 2, but not frustratingly so – is 1,200 x 824 resolution and 150ppi, and while still grayscale feels far more useful than that of its smaller sibling.
Full Kindle DX live gallery and demo video after the cut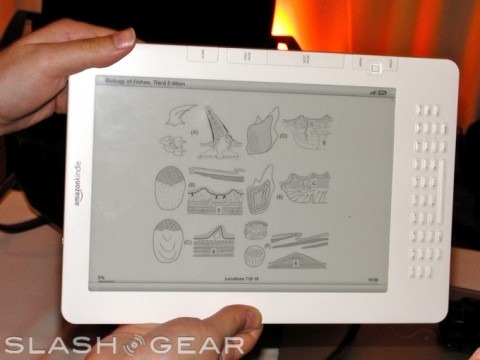 Most of the time the DX's functionality is just like that of a Kindle 2, but of course the automatic screen rotation is new.  Unlike on a cellphone like the iPhone, where the rotation is completed in seconds, the E Ink display on the Kindle DX is a lot slower: perhaps 3-4 seconds before it flips.  Still, we'd happily sacrifice some speed for landscape reading; this really is a huge stretch of E Ink panel, and it's in this orientation when you really recognize that the display is 2.5 times that of the Kindle 2.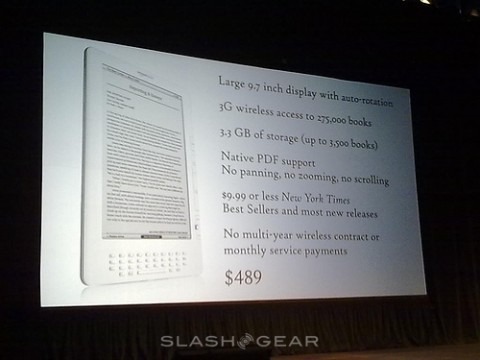 The Kindle DX is available to pre-order now, priced at $489.  It'll begin shipping in the US over the summer; for all the details on today's launch, check out SlashGear's liveblog coverage plus the hardware specs and official photos from Amazon.
[vms 750899bb03d998e63186]
Make sure to also check out Joanna Stern's hands-on with the Kindle DX over at LaptopMag.com.