Amazon Kindle DX: $489 summer release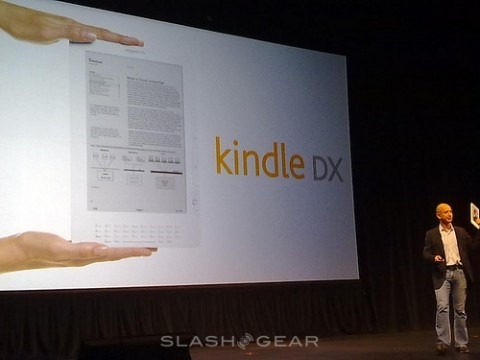 We may receive a commission on purchases made from links.
Amazon announced the Kindle DX this morning, an e-reader with a 9.7-inch E Ink display, integrated 3G, an onboard PDF reader and 3.3GB of internal storage, enough for up to 3,500 books.  The larger Kindle will go on sale this Summer, alongside the existing Kindle 2, priced at $489.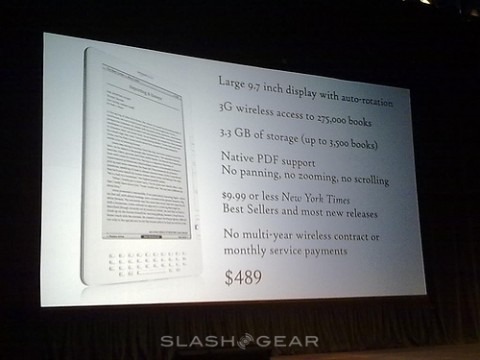 The larger display now auto-rotates between portrait and landscape modes, and readers can adjust how many words per line are displayed.  Amazon's Kindle library now extends to 275,000 titles, and over the summer there'll be partnerships with textbook publishers Pearson, Cengage Learning and Wiley who together offer more than 60-percent of texts used in the US higher education system.
Meanwhile five universities – Arizona State University, Case Western Reserve University, Princeton University, Reed College, and Darden School of Business at the University of Virginia – launch trial programs to make Kindle DX devices available to students this fall.  No details of the trials have been given, aside from that hundreds of Kindle DX units will be distributed at each school.
For newspaper readers, meanwhile, the New York Times, Boston Globe and Washington Post will all offer pilots over the summer with the Kindle DX, offering the e-reader to would-be subscribers not currently served by paper distribution.  The DX will be subsidized, as long as readers are willing to sign up to "long term subscription" of the Kindle newspaper edition.
[vms 750899bb03d998e63186]
Press Release:
Introducing Kindle DX—Amazon's Large Screen Addition to the Kindle Family of Wireless Reading Devices

Large Kindle DX Display and New Features Provide Enhanced Experience for Reading a Wide Range of Professional and Personal Documents

The New York Times, The Boston Globe, and The Washington Post to Launch Trials Offering Kindle DX to Subscribers Who Live in Areas Where Home Delivery is Not Available

Leading Textbook Publishers to Offer Textbooks in Kindle Store

Five Universities to Launch Trials with Students Using Kindle DX in Fall 2009

SEATTLE–(BUSINESS WIRE)–Amazon.com, Inc. (NASDAQ:AMZN) today introduced Amazon Kindle DX, the new purpose-built reading device that offers Kindle's revolutionary wireless delivery and massive selection of content with a large 9.7-inch electronic paper display, built-in PDF reader, auto-rotate capability, and storage for up to 3,500 books. More than 275,000 books are now available in the Kindle Store, including 107 of 112 current New York Times Best Sellers. New York Times Bestsellers and New Releases are $9.99 unless marked otherwise. Top U.S. and international magazines and newspapers plus more than 1,500 blogs are also available. Kindle DX is available for pre-order starting today for $489 at http://amazon.com/kindleDX and will ship this summer.

"Personal and professional documents look so good on the big Kindle DX display that you'll find yourself changing ink-toner cartridges less often," said Jeff Bezos, Amazon.com Founder and CEO. "Cookbooks, computer books, and textbooks – anything highly formatted – also shine on the Kindle DX. Carry all your documents and your whole library in one slender package."

New Large Display

Kindle DX's display has 2.5 times the surface area of Kindle's 6-inch display. The larger electronic paper display with 16 shades of gray has more area for graphic-rich content such as professional and personal documents, newspapers and magazines, and textbooks. Kindle reads like printed words on paper because the screen works using real ink and doesn't use a backlight, eliminating the eyestrain and glare associated with other electronic displays.

The New York Times Company and Washington Post Company are launching pilots with Kindle DX this summer. The New York Times, The Boston Globe, and The Washington Post will offer the Kindle DX at a reduced price to readers who live in areas where home-delivery is not available and who sign up for a long-term subscription to the Kindle edition of the newspapers.

"At The New York Times Company we are always seeking new ways for our millions of readers to have full and continuing access to our high-quality news and information," said Arthur Sulzberger, Jr., chairman, The New York Times Company and publisher, The New York Times. "The wireless delivery and new value-added features of the Kindle DX will provide our large, loyal audience, no matter where they live, with an exciting new way to interact with The New York Times and The Boston Globe. Additionally, by offering a subscription through the Kindle DX to readers who live outside of our delivery areas, we will extend our reach to our loyal readers who will be able to more readily enjoy their favorite newspapers. Meanwhile, we are continuing to work with Amazon to make The New York Times and The Boston Globe experiences on Kindle better than ever."

Kindle DX's large display offers an enhanced reading experience with another category of graphic-rich content—textbooks. With complex images, tables, charts, graphs, and equations, textbooks look best on a large display. Leading textbook publishers Cengage Learning, Pearson, and Wiley, together representing more than 60 percent of the U.S. higher education textbook market, will begin offering textbooks through the Kindle Store beginning this summer. Textbooks under the following brands will be available: Addison-Wesley, Allyn & Bacon, Benjamin Cummings, Longman & Prentice Hall (Pearson); Wadsworth, Brooks/Cole, Course Technology, Delmar, Heinle, Schirmer, South-Western (Cengage); and Wiley Higher Education.

Arizona State University, Case Western Reserve University, Princeton University, Reed College, and Darden School of Business at the University of Virginia will launch trial programs to make Kindle DX devices available to students this fall. The schools will distribute hundreds of Kindle DX devices to students spread across a broad range of academic disciplines. In addition to reading on a considerably larger screen, students will be able to take advantage of popular Kindle features such as the ability to take notes and highlight, search across their library, look up words in a built-in dictionary, and carry all of their books in a lightweight device.

"The Kindle DX holds enormous potential to influence the way students learn," said Barbara R. Snyder, president of Case Western Reserve University. "We look forward to seeing how the device affects the participation of both students and faculty in the educational experience."

New Built-In PDF Reader

Kindle DX features a built-in PDF reader using Adobe Reader Mobile technology for reading professional and personal documents. Like other types of documents on Kindle, customers simply email their PDF format documents to their Kindle email address or move them over using a USB connection. With a larger display and built-in PDF reader, Kindle DX customers can read professional and personal documents with more complex layouts without scrolling, panning, or zooming, and without re-flowing, which destroys the original structure of the document. Everything from annual reports with graphs to flight manuals with maps to musical scores can be viewed on a single, crisp screen with Kindle DX.

New Auto-Rotation

Kindle DX's display content auto-rotates so users can read in portrait or landscape mode, or flip the device to read with either hand. Simply turn Kindle DX and immediately see full-width landscape views of maps, graphs, tables, images, and Web pages.

New 3.3 GB Memory Holds Up To 3,500 Books

With 3.3 GB of available memory, Kindle DX can hold up to 3,500 books, compared with 1,500 with Kindle. And because Amazon automatically backs up a copy of every Kindle book purchased, customers can wirelessly re-download titles from their library at any time.

Incredibly Thin

Kindle DX is just over a third of an inch thin, which is thinner than most magazines.

3G Wireless, No PC, No Hunting for Wi-Fi Hot Spots

Just like Kindle, Kindle DX customers automatically take advantage of Amazon Whispernet to wirelessly shop the Kindle Store, download or receive new content in less than 60 seconds, and read from their library—all without a PC, Wi-Fi hot spot, or syncing. Amazon still pays for the wireless connectivity on Kindle DX so books can be downloaded in less than 60 seconds—with no monthly fees, data plans, or service contracts.

Syncs With Kindle for iPhone and other Kindle Compatible Devices

Just like Kindle, Kindle DX uses Amazon Whispersync technology to automatically sync content across Kindle, Kindle DX, Kindle for iPhone, and other devices in the future. With Whispersync, customers can easily move from device to device and never lose their place in their reading.

Massive Selection of Books—Plus Newspapers, Magazines, and Blogs

The Kindle Store currently offers more than 275,000 books, including popular books like New York Times Bestsellers, New Releases, and fiction and nonfiction released in the past several years. Dozens of newspapers and magazines are also available for subscription or single-edition purchase. BusinessWeek and The New England Journal of Medicine are available in the Kindle Store starting today, and The Economist will be available soon. Subscriptions are auto-delivered wirelessly to Kindle overnight so that the latest edition is waiting for customers when they wake up. Over 1,500 blogs are available on Kindle and updated and downloaded wirelessly throughout the day.

Kindle DX includes all the other features Kindle customers enjoy every day, including:

Wirelessly send, receive, and read personal documents in a variety of formats such as Microsoft Word and PDF

Look up words instantly using the built-in 250,000 word New Oxford American Dictionary

Choose from six text sizes

Add bookmarks, notes, and highlights

Text-to-speech technology that converts words on a page to spoken word

Search Web, Wikipedia.org, Kindle Store, and your library of purchased content

No setup required—Kindle comes ready to use—no software to load or set up

Amazon Kindle is sold through Amazon Digital Services, Inc.