Amazon Kindle DX official images & specifications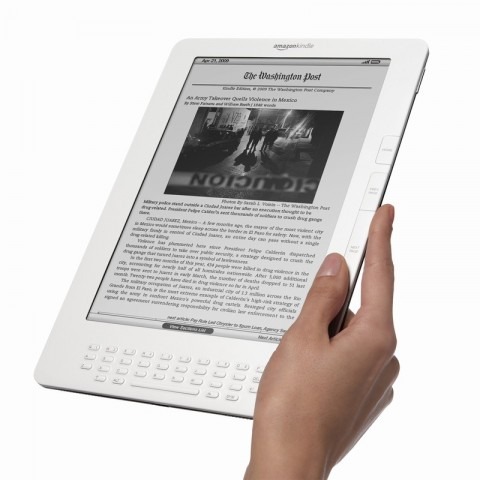 We may receive a commission on purchases made from links.
The official images of the Amazon Kindle DX are out, and as you might expect it looks like an overgrown version of the Kindle 2.  The specifications tell the full dimension story, though: the Kindle DX measures 10.4 x 7.2 x 0.38 inches, versus the Kindle 2 which measures 8 x 5.3 x 0.36 inches.Kindle DX hardware specs after the cut
That makes the Kindle DX as thin as most magazines, and only very slightly thicker than the Kindle 2.  As well as the 9.7-inch auto-rotating E Ink display – which runs at 1,200 x 824 resolution, 150ppi, with 16-levels of grayscale – the DX has a 3.5mm stereo headphone socket, integrated stereo speakers, microUSB 2.0 port for charging and connecting the e-reader to a PC/Mac and 3G EVDO modem that can "fallback" to 1xRTT for wireless downloads.  The Kindle DX uses the Sprint network for its connectivity.
It weighs 18.9oz and you can read on a single charge for four days with the wireless switched on, or up to two weeks with it turned off.  A full recharge is completed in around 4hrs.  Supported document formats are Kindle (AZW), PDF, TXT, Audible (formats 4, Audible Enhanced (AAX)), MP3, unprotected MOBI, PRC natively; HTML, DOC, RTF, JPEG, GIF, PNG, BMP through conversion.
The Amazon Kindle DX will launch over the summer; the package includes the power adapter, USB 2.0 cable and battery, but not the leather book cover.  Priced at $489, it's available to pre-order now.